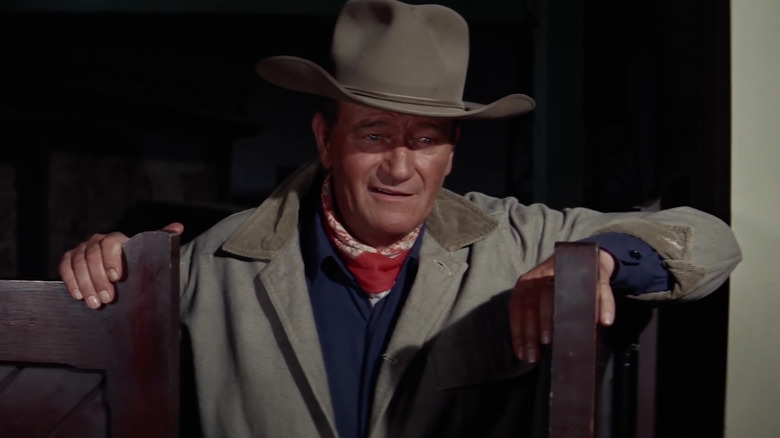 Who doesn't love John Wayne? The tough-talking cowboy dominated the silver screen for decades, captivating audiences with his endless charisma and dynamic swagger. Growing up, I saw many of the Duke's films — my mom loved him — but only later discovered some of his greatest adventures, including "The Searchers." All told, Wayne appeared in over 250 films, earned three Academy Award nominations, and took home an Oscar for Best Actor ("True Grit"). One need only glance at his resume to notice a handful of classic films: "The Man Who Shot Liberty Valance," "Sands of Iwo Jima," "The Quiet Man," "Rio Bravo," "The Shootist," and "Stagecoach," among many, many others.
Each of these films comes with a plethora of memorable scenes. Be it a line of colorful dialogue, a well-executed action sequence, or a simple character beat in which Wayne shows off his effortless charm, there are plenty of unforgettable Duke moments to choose from, but which are the best? Well, I've poured through Wayne's catalog of films to come up with the 15 greatest John Wayne movie moments, ranked from good to great. So what are you waiting for, pilgrim? We're burning daylight. Read!
Battle Of The Alamo -—The Alamo (1960)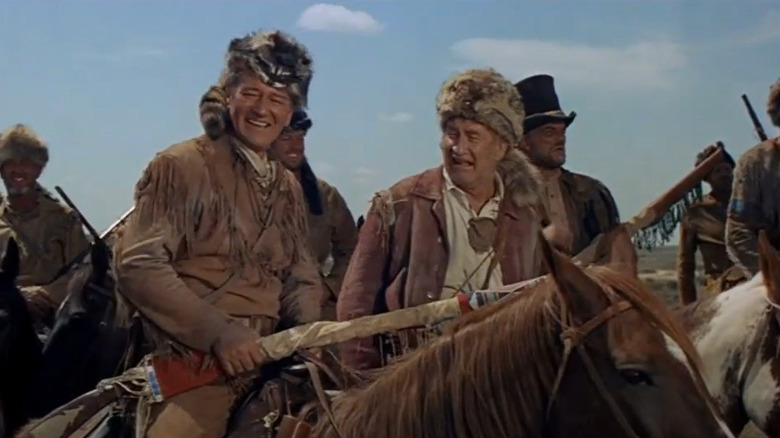 John Wayne pulled double duty as director and star of 1960's big-budget "The Alamo." While James Edward Grant's script plays loose with facts, Wayne delivers a spectacular epic that deserves more recognition than it receives, primarily due to its sheer ambition. Naturally, the crown jewel of this 167-minute production is the massive set piece that sees Davy Crockett (Wayne), Jim Bowie (Richard Widmark), William B. Travis (Laurence Harvey), and other legendary heroes square off against General Santa Anna's Mexican army.
Impressive in its scope and scale, the climactic battle is a breathtaking achievement to behold. Wayne captures the chaos in sharp detail by utilizing hundreds of extras and any number of pyrotechnics. The sound design alone is enough to rock your eardrums. Every canon blast, gunshot, and explosion thunders over the soundtrack while Dimitri Tiomkin's score intensifies the action.
Our heroes fight to the bitter end. Davy Crockett, king of the wild frontier, is stabbed with a spear but still manages to go out with a bang — literally! He dives into a powder magazine with a torch in hand and blows himself to Kingdom Come, a bitter end for a legendary hero. Travis and Bowie likewise die in combat. The battle ends in a complete victory for the Mexican army, resulting in a rare downbeat, even poignant, finale for a John Wayne film.
Chisum Stands Up For White Buffalo — Chisum (1970)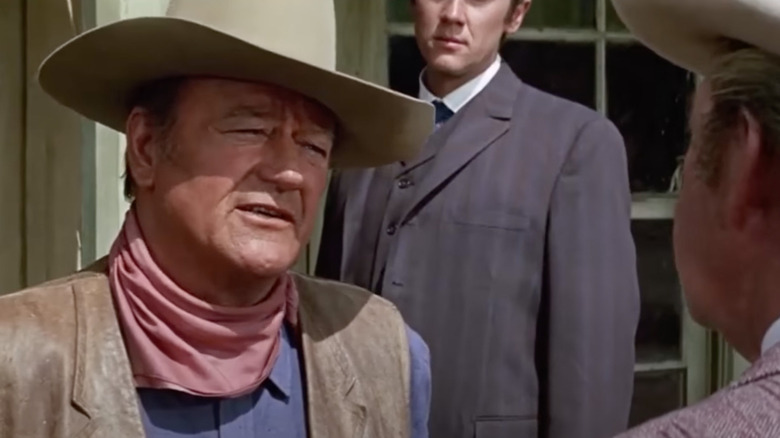 "Chisum" focuses on the Lincoln County War of 1878, during which respected cattle rancher John Chisum (John Wayne) fought back against conniving businessmen operating a dry goods monopoly in Lincoln County, New Mexico. The actual conflict is notable for its legendary participants, namely Billy the Kid and Pat Garrett, portrayed in the film by Geoffrey Deuel and Glenn Corbett. While the film boosts the melodrama and reworks the true story for its own devices, "Chisum" remains one of the better John Wayne films to emerge in the latter half of his career.
The Duke is in peak form blasting bad guys to bits with his revolver, but the best scene in the picture occurs when our hero stands up for a former rival named Chief White Buffalo (Abraham Sofaer). The Native American has a history with Chisum dating back to the "old days" when the duo fought each other over land but has since developed a respect for the grizzled cowboy — and vice versa. As such, when an Army First Sergeant (John Pickard) lays his hands on the chief, Chisum calmly pulls him aside and growls, "One other thing you oughta know. Sergeant, you touch White Buffalo again and I'll kill ya."
The brief moment captures the essence of Chisum, a man who fights for the dignity of others, even his enemies.
Planting The Flag — Sands Of Iwo Jima (1949)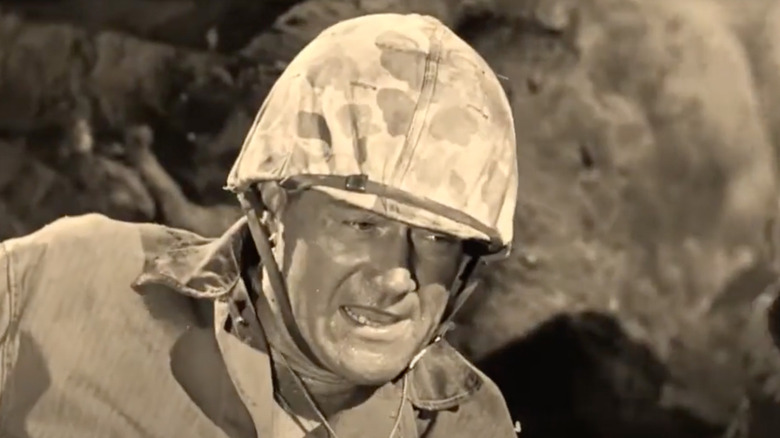 John Wayne earned an Academy Award nomination for his portrayal of the cantankerous Marine Sgt. John Stryker in "Sands of Iwo Jima," a thrilling World War II epic that follows a group of United States Marines from basic training to the legendary battle of Iwo Jima. Wayne dives deep into his bag of tricks for this one, creating a hard-nosed character who is feared and admired by all.
Stryker's training prepares his rugged Marines for combat, and it's not long before the hardened vet leads his boys across the perilous terrain of Iwo Jima, resulting in deaths aplenty. At one point, the remaining Marines, including Stryker, pause for a smoke break. The crew shares some laughs, but then, Stryker is hit by a bullet from a hidden Japanese soldier. (Audible gasp!) After executing the killer, Stryker's men dig through their sergeant's pockets and discover an unfinished letter to his son. Despite fighting alongside the man, the men realize they never knew their leader, who laments his failures as a husband and father and encourages his son to follow his heart. He was an old softy after all.
The battle-weary men glance up and see the American flag rising atop Mount Suribachi — a moment immortalized by Joe Rosenthal's iconic photo. It's a heartbreaking, emotional, stirring finale that succinctly concludes this Word WarII epic on a powerful note. I cry every time.
Final Shootout — El Dorado (1966)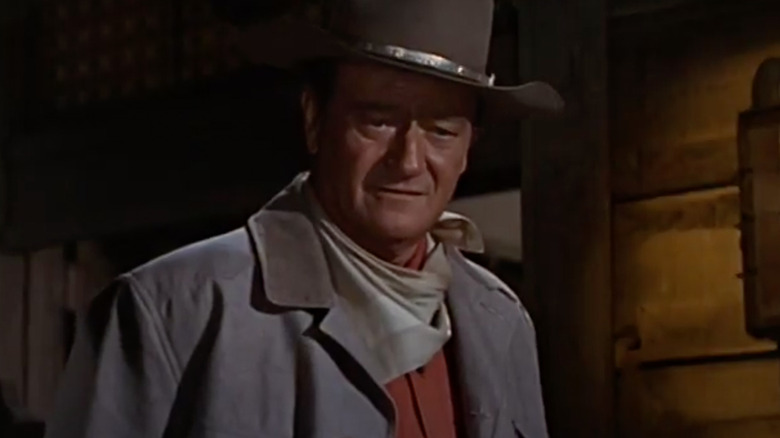 John Wane and director Howard Hawks teamed up for the fourth time on "El Dorado," a film about an aging gunfighter named Cole Thornton (Wayne), who aids Sheriff J.P. Harrah (Robert Mitchum) in his quest to stop a crew of evil ranchers pestering the denizens of El Dorado over water rights. The simplistic story, based on the novel "The Stars in Their Courses" by Harry Brown, is merely an excuse to give Wayne another opportunity to demonstrate his red-blooded machismo, and the Duke doesn't disappoint,
Despite taking a bullet in the back early in the film that results in spontaneous temporary paralysis on the right side of his body, Thornton manages to kill the bad guys and save the day during the thrilling climax. Following a series of kidnappings, blackmails, and murders, evildoers Jason (Ed Asner) and Nelse McLeod (Christopher George) confront a wagon-riding Thornton in front of the local saloon at night. Our hero's right hand is visibly crippled, but that impairment isn't enough to prevent him from leaping off the wagon and blasting McLeod with a carefully concealed shotgun. Even after a bullet grazes his leg, Thornton dispatches the remaining bad guys with minimal effort while Harrah, Mississippi (James Caan), and Joey (Michele Carey) provide support.
Don't mess with John Wayne, people, no matter the situation.
Sean Boxes Red — The Quiet Man (1952)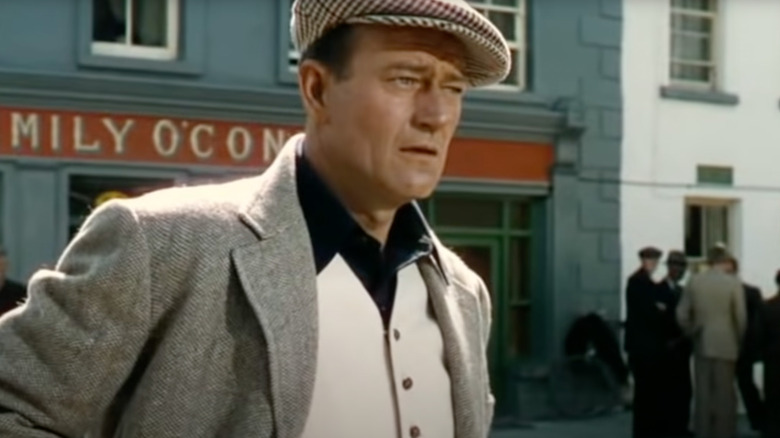 In 1952, John Ford, John Wayne, and Maureen O'Hara tossed aside the rugged vistas of the Old West for Ireland's lush countryside and the classic dramedy "The Quiet Man." Wayne stars as Sean Thornton, a former boxer with a checkered past, who develops a fierce quarrel with feisty Mary Kate Danaher (O'Hara) and her brother Will (Victor McLaglen). Sean marries Mary Kate, but Will refuses to give his sister her dowry — it's complicated — an action that causes tensions between everyone involved. Mary Kate demands her husband take the dowry from her brother by force, but Sean has given up boxing following a tragedy.
No matter. Sean eventually relents and confronts Will about the dowry, a confrontation that results in a boxing match for the ages. The two brawlers duke it out over several square miles in front of the local townsfolk. They knock each other through bales of hay, tumble into rivers, and even stop for a quick drink. More silly than tense, the scuffle nonetheless remains one of the more entertaining sequences in Wayne's career and wraps Ford's brilliant, crowd-pleasing "Quiet Man" in a shiny, green bow.
Hondo Teaches A Boy To Swim — Hondo (1953)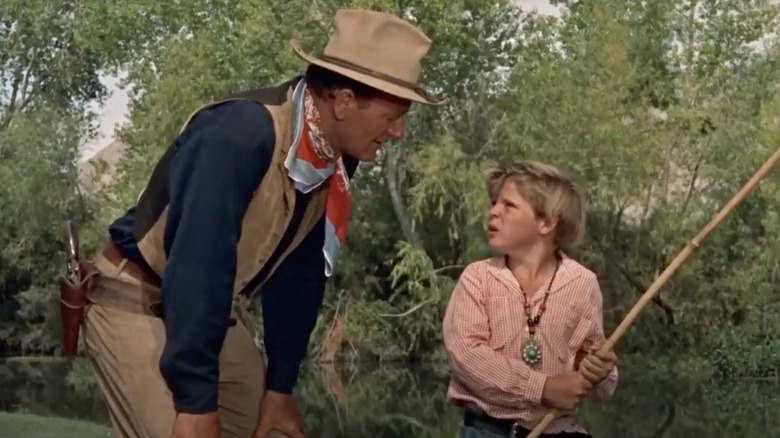 John Wayne was a tough man with a blatant intolerance for weakness. He portrayed heroes who worked hard and expected others to follow suit, especially kids. There's a great scene in "The Cowboys" in which he helps a young boy with his stuttering by berating the child in front of his fellow boys. Enraged, the kid curses out Wayne's character, eventually shouting, "You god**** mean, dirty, son of a b****!" without fumbling his words. Satisfied with the lesson, Wayne retorts, "I wouldn't make a habit of calling me that, son."
Still, none of Wayne's teaching methods match the one found in John Farrow's "Hondo," in which Wayne's titular hero tosses six-year-old Lee Aaker into a river after learning he can't swim. When the boy's mother, Angie (Geraldine Page), pleads for Hondo to save him, the tough old goat smirks, "It's time he learned. Everybody should swim." The kid manages to reach the other side of the river, leading to this humorous exchange:
"How will he get back," Angie asks.
"He'll swim," Hondo quips.
"He might drown," she snaps.
"Then you go get him," he snaps back.
"Well, I can't swim either!" Angie's voice trails off. She sees the look on Hondo's face and immediately runs to the house. Brilliant.
Saloon Shootout — The Shootist (1976)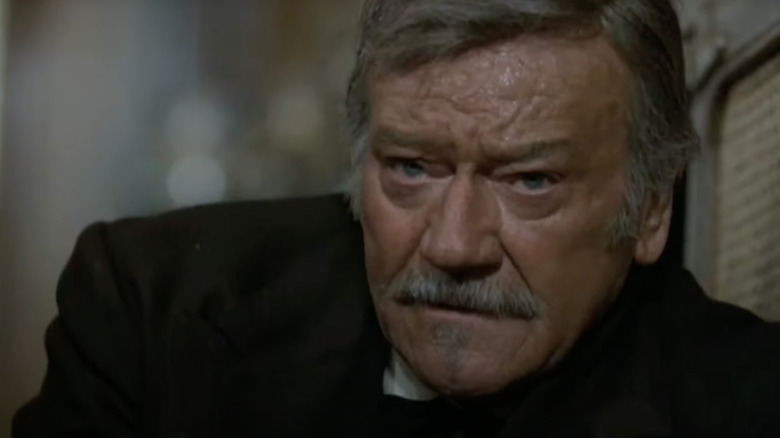 John Wayne concluded his astonishing career by teaming up with Don Siegel for the gritty 1976 Western "The Shootist." Here, the Duke stars as known gunfighter J.B. Books, who learns he's dying of cancer and heads to Carson City, Nevada to spend his final days. There, he befriends a widower (Lauren Bacall) and her overzealous young son, Gillom (Ron Howard), who is instantly attracted to Brooks' violent lifestyle. As word spreads of Brooks' desire to go out with a bang, several of his past enemies arrive for a showdown. 
Fittingly, the story concludes inside a saloon where Brooks engages in a bloody shootout with three gunfighters. Our hero wins but is promptly shot in the back by a cowardly bartender. Gillom arrives and shoots the bartender in retaliation and then tosses the gun away, repulsed by his actions. Brooks silently nods his approval, offers a slight grin, and then rolls over and dies. 
While the shootout lacks the ferocity and joy of previous Wayne ventures, the real-life drama percolating off-screen gives the scene more weight. This was the Duke's last film. He would die of cancer three years later. "The Shootist" adroitly sums up his career and legacy. It is a sad, somber tale about a beloved man whose life ends far too quickly.    
Poker Game — Tall In The Saddle (1944)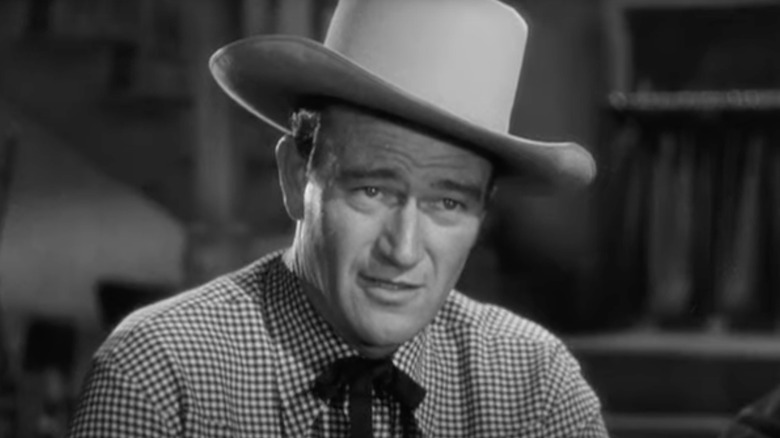 "Tall in the Saddle" is one of John Wayne's forgotten gems. This rip-roaring B-movie action adventure checks every box on the list of Western cliches but still manages to surprise and entertain thanks to some fine performances and terrific set pieces. There are several memorable moments to choose from here, but the scene that takes the cake is the one in which Rocklin (Wayne) sits down for a poker game with some two-faced players, including the loud-mouthed Clint Harolday (Russell Wade). During the final round, Clint plays a "dead card" that gives him the upper hand. Rocklin tries to take the money, noting that the illegal card doesn't count, but Clint inexplicably pulls a gun.
Ever the cool-headed cowboy, Rocklin quietly stands, turns, and heads upstairs. Clint boasts about his winnings and brushes off the warnings of the bartender, who suggests he high tail it out of the saloon because Rocklin is the kind who comes back. Sure enough, all eyes turn towards the top of the stairs, where Rocklin quietly reemerges with a gun. He walks down the steps, the wood creaking beneath his feet, approaches Clint, and demands his money.
Clint obliges and even apologizes for his actions. Rocklin says nothing, collects his cash, and heads back upstairs — a classic scene that proves John Wayne is the ultimate king of cool.
Opening Scene — Rio Bravo (1959)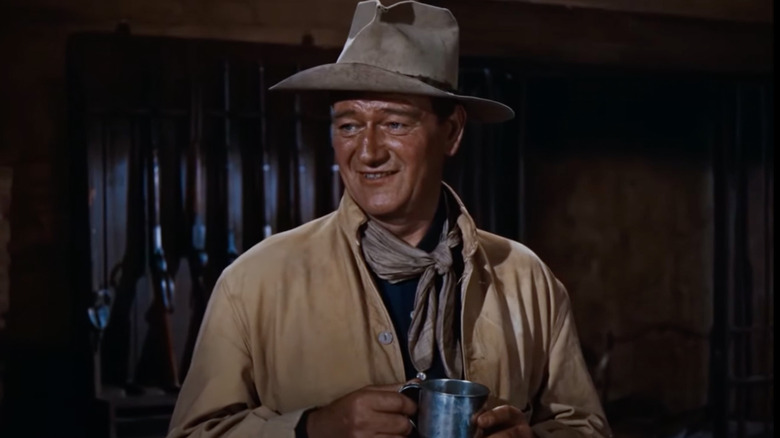 In the late 1950s, John Wayne realized he would play a cowboy for the rest of his life. He had just released a series of box-office failures following his critically-acclaimed turn in "The Searchers" and desperately needed to get back on top. Enter Howard Hawks' 1959 classic "Rio Bravo," a film so successful that Wayne and Hawks would remake it twice as "El Dorado" in 1966 and "Rio Lobo" in 1970.
The film follows Sheriff John T. Chance (Wayne) as he teams up with hard-drinking former lawman Dude (Dean Martin) and a young hotshot dubbed Colorado (Ricky Nelson) to fend off the gang of a powerful criminal recently arrested for murder. While a tad slow and light on action, "Rio Bravo" remains one of the Duke's best films thanks to its strong performances, intriguing plot, and captivating characters.
Hawks' film also features one of Wayne's all-time best scenes, an extended opening sequence that aptly establishes the plot using minimal dialogue. The scene begins with a drunken Dude stumbling into a bar looking for a drink. Joe Burdette (Claude Akins) eggs him on by tossing coins into a spittoon. Before Dude can reach in to grab the money, Chance arrives and stops him. Outraged, Dude knocks Chance out, resulting in a scrum that leaves an unnamed cowboy (played by Kurt Russell's dad, Bing) dead. Joe heads to another bar, but Chance, bleeding from Dude's attack, arrives and arrests him. Simple but undoubtedly effective storytelling at its finest.
Tom Burns His Ranch — The Man Who Shot Liberty Valance (1962)
John Wayne occasionally stepped outside his comfort zone to portray complex characters that did more than just shoot bad guys. In the case of "The Man Who Shot Liberty Valance," the atypical, fun-loving, smooth-talking Wayne character is posited in a far grittier world colored in darker shades of gray. Director John Ford demystifies the Western legend and calls to question the various myths that percolate throughout our history. 
Co-starring James Stewart, "Liberty Valance" details Ransom Stoddard's dealings with the vile titular character played by Lee Marvin. Ransom is a believer in the law and objects to the use of force to bring Valance down. Tom Doniphon (Wayne), a local cowboy, stands up for Ransom and trains him to shoot, but the two men never see eye-to-eye, mainly because they're locked in a love triangle involving Hallie Stoddard (Vera Miles). After more violence, Ransom confronts and kills Valance following an intense standoff. 
The incident allows Ransom to marry Hallie, which breaks Tom's heart, resulting in one of John Wayne's finest moments as an actor. Tom goes back to his ranch, which he was expanding for Hallie, and burns it all to the ground. He then tries to kill himself but is saved by his best man Pompey (Woody Strode). 
By itself, the scene is powerful and devastating. Except, later we learn that Tom actually killed Valance, mainly out of love for Hallie, which gives the entire sequence even more poignancy.   
G.W. Spanks Kate — McLintock! (1963)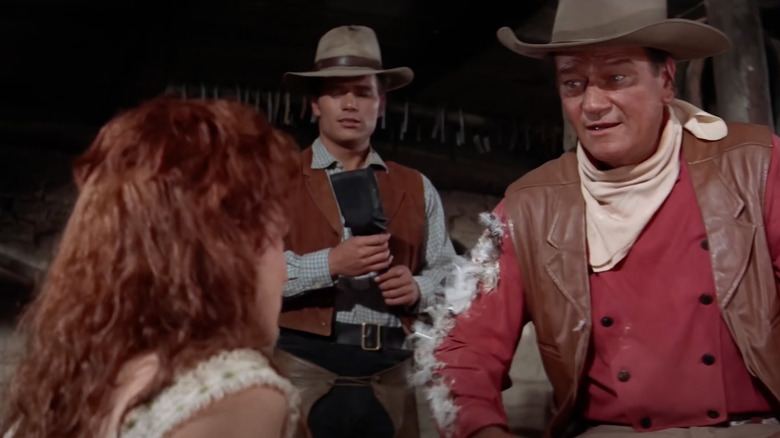 John Wayne and Maureen O'Hara collaborated five times throughout their storied careers, often with satisfying results. While "Rio Grande" and "The Quiet Man" earn top marks, "McLintock!" remains the duo's most iconic collaboration, if only because of the sequence advertised on the film's poster. Yeah, that one.
Directed by Andrew V. McLaglen, "McLintock!" details an estranged husband and wife's efforts to repair their fractured marriage while dealing with corrupt government officials, farmers, and land grabbers in late 1800s America. Loosely based on William Shakespeare's "The Taming of the Shrew," "McLintock!" ultimately arrives at a rowdy conclusion that sees George Washington "G.W." McClintock (Wayne) chasing his half-naked wife Katherine (O'Hara) around town to give her a proper spanking. The sequence is outrageous fun and features crazy stunts, hundreds of extras, and goofy slapstick comedy not typically found in the Duke's portfolio. At one point, Katherine flies through a store window! The feisty redhead leaps from buildings, tosses cans of food at her husband, and even falls into a horse trough with comical results.
Eventually, G.W. captures his wife and gives her a good spanking in front of the townsfolk before riding off into the sunset. Don't worry! Katherine chases him down, and the two reconcile before the credits roll. It's silly but fun.
Wil Fights Asa - The Cowboys (1972)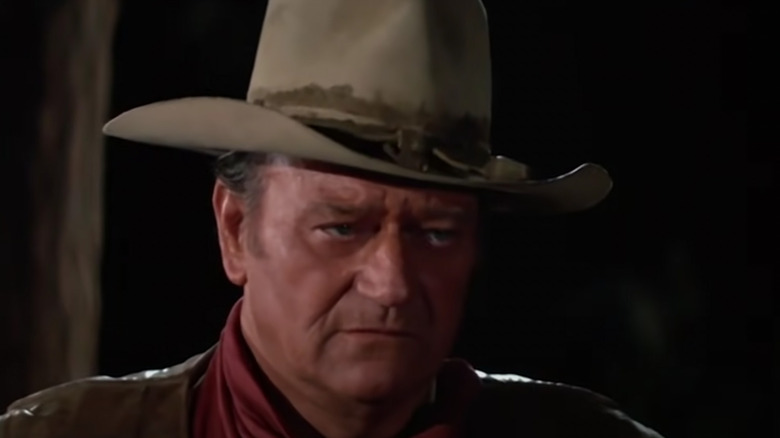 The Duke didn't die too often in his films, but you certainly felt the impact when he did. Case in point: Mark Rydell's excellent 1972 feature "The Cowboys" in which Wayne's tough-talking rancher, Wil Andersen, leads a group of schoolboys on a cattle drive and is gunned down by none other than Bruce Dern.
The tragic moment arrives late in the picture when Wil and his boys spot a gang trailing their herd and decide to hole up for the night. Dern's character, Asa Watts, wants the cattle and has tracked Wil's group over hundreds of miles. Now, he's finally ready to make his move. 
Initially, Asa ignores Wil and tortures one of the young boys in the group, but Wil eventually intervenes and challenges the much younger man to a fight. "I'm 30 years older than you are," the grizzled vet says. "Had my back broke once, my hip twice, and on my worst day I could beat the hell out of you."
A brutal fistfight commences, Wil eventually gains the upper hand and slams Asa into a tree, then turns away. Asa grabs a pistol, tells Wil to turn around, and shoots him in the arm. Wil shakes off the wound and continues walking, but Asa puts one in his leg, shoulder, and belly. It's a shocking, stomach-churning moment of violence that competently symbolizes Wayne's passing of the torch to a much younger, rougher crowd of cinematic heroes and villains.
The Charge — True Grit (1969)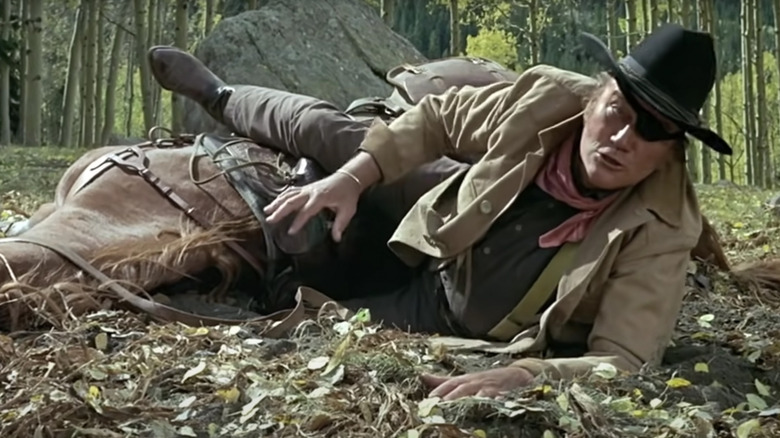 John Wayne earned a well-deserved Oscar for his portrayal of one-eyed, drunken U.S. Marshal Reuben "Rooster" J. Cogburn in 1969's "True Grit." The film, based on the novel by Charles Portis, tells the tale of young Mattie Ross (Kim Darby), who hires Cogburn to find and arrest Tom Chaney (Jeff Corey), the man who murdered her father. Along the way, they team up with Le Boeuf, a young Texas Ranger (Glen Campbell): deal with outlaws such as "Lucky" Ned Pepper (Robert Duvall), and kickstart a friendly relationship.
While the Coen brothers' 2010 remake, starring Jeff Bridges, Matt Damon, and Hailee Steinfeld remains the better adaptation of Portis' novel, Wayne's version, directed by Henry Hathaway, is a worthy showcase for the 62-year-old star. Indeed, the aged actor is terrific as Rooster Cogburn, particularly in the climactic shootout that ranks among the finest scenes in his career.
Rooster, on horseback, confronts Ned's gang alone and urges the outlaw's cohorts to stand clear. The foursome laughs off his threats and Ned calls him a "one-eyed fat man." Angered, Rooster pulls a rifle and a revolver, tucks his horse's reins between his teeth, and bellows, "Fill your hands, you son of a b***!" The two factions charge at each other, guns blazing, and the Duke manages to take the lot of them down (with a bit of help from La Boeuf). It's a sensational sequence, and one of the reasons Wayne took home the golden statue that year.
Ethan Saves Debbie — The Searchers (1956)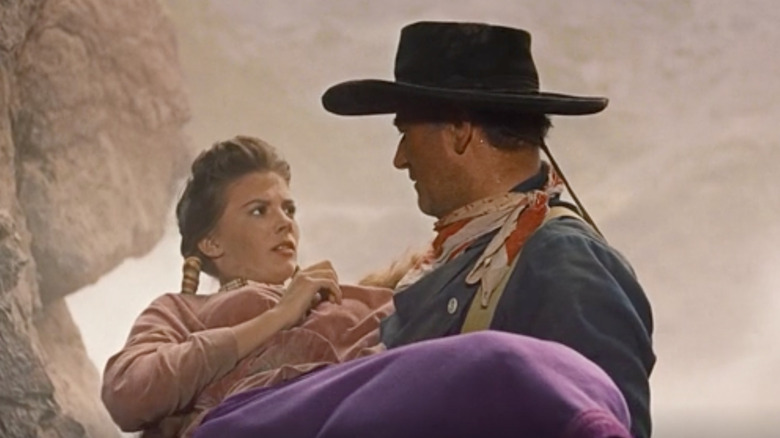 John Ford's "The Searchers" remains one of the all-time great motion pictures, a superbly directed, wonderfully acted, beautifully filmed story about revenge, love, prejudice, and violence featuring John Wayne's best performance. Bar none. As the embittered Ethan Edwards, the Duke portrays a complex character struggling with a hatred of Native Americans that stems from a personal tragedy in his past and heats to a boil when his niece, Debbie (Natalie Wood), is kidnapped by a Comanche known as Scar (Henry Brandon). Ethan teams up with his adopted nephew, Martin (Jeffrey Hunter), to save his niece. Their mission becomes a dangerous quest that consumes five years of their lives. Will Ethan give in to his hatred and kill Debbie now that she is part Comanche? Or will the bitter war veteran rescue her from Scar?
The long-winded adventure comes to a head in an intense climax that sees Ethan, Martin, and a small army attack Scar's camp. Martin kills the Comanche leader, and Ethan brutally scalps him. Then, Ethan turns his attention to Debbie. Our rugged hero chases the young woman on horseback and appears ready to deliver the final blow but instead picks her up and quietly says, "Let's go home, Debbie." The music swells, and the pair embrace in one of the greatest finales in movie history.
Ringo Kid Introduction — Stagecoach (1939)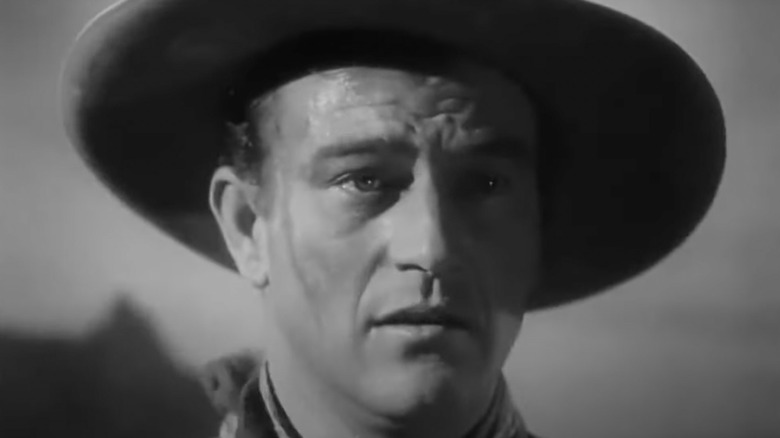 John Wayne suffered through countless obscure Westerns for over a decade before John Ford changed his fortunes and cast him as the Ringo Kid in the 1939 classic "Stagecoach." The rest, as they say, is history.
Wayne's character first appears in an all-time epic shot, during which the camera pushes into his face and captures his rugged, handsome features. The young cowboy, illuminated by scenic Monument Valley, cocks his rifle with one hand, an innocent expression creasing his sweaty face. At this point in the film, we know Ringo is an outlaw who escaped prison to avenge his father and brother. The shot perfectly establishes Ringo as a brash young cowboy ready for action, albeit leery of the trials to come. He's larger than life, a magnificent hero ideally situated among the scenic landscape, the type of character Wayne would repeatedly portray over the next four decades.  
Wayne's role as the Ringo Kid set the stage for a magnificent career that would pair him with talented directors such as the aforementioned Ford, Howard Hawks, Henry Hathaway, Andrew V. McLaglen, and many others. John Wayne became a household name and a cultural icon who is still well-regarded today — political ideologies aside. And he owes it all to this legendary moment in "Stagecoach."
Read this next: The 15 Best Humphrey Bogart Movies Ranked
The post The 15 Greatest John Wayne Movie Moments appeared first on /Film.