This shop has been compensated by Collective Bias, Inc. and its advertiser. All opinions are mine alone. #TheresOnlyOneSkinner #CollectiveBias
Weeknights are tough, and they only seem to get more difficult as we get in closer to the holidays. That's why I like to stick with quick and easy weeknight dinners. These Tex-Mex Lasagna Roll-Ups are a fun twist on a modern Italian classic; lasagna roll-ups!

I've taken lasagna roll-ups and given them a Tex-Mex kick. I guess you could call it Tex-Italia! I loosely got the idea for this fun dish off of one that my mom makes which is called 'Cowboy Spaghetti'. I took this dish a little more Tex-Mex though with the addition of beans and taco meat to all be rolled up in lasagna noodles. They're basically a Tex-Mex taco in lasagna form.
Interested in trying out Skinner® pasta? Hover over the photo above to click through for purchasing at Walmart!

Not just any lasagna noodles though, Skinner Lasagna noodles! Skinner is "tried and true, so you can do you", which means I was confident in adding my own Texas-inspired flavors to this pasta dish. I knew that it would turn out delicious!

Not only is Skinner pasta perfect for weeknight meals, it's also great for elevated special occasion dishes too. But for today, I'm sticking with easy-peasy.

I kept these Tex-Mex Lasagna Roll-Ups lightened up and a bit better-for-you by using refried black beans, extra lean ground beef, and my own homemade taco seasoning.
I picked up some Skinner
Elbows
and Skinner
Spaghetti
: to go along with my Lasagna. It's a great time to stock up!
For a limited time, you can save on any Skinner pasta product at Walmart! Click
here
to earn on Ibotta!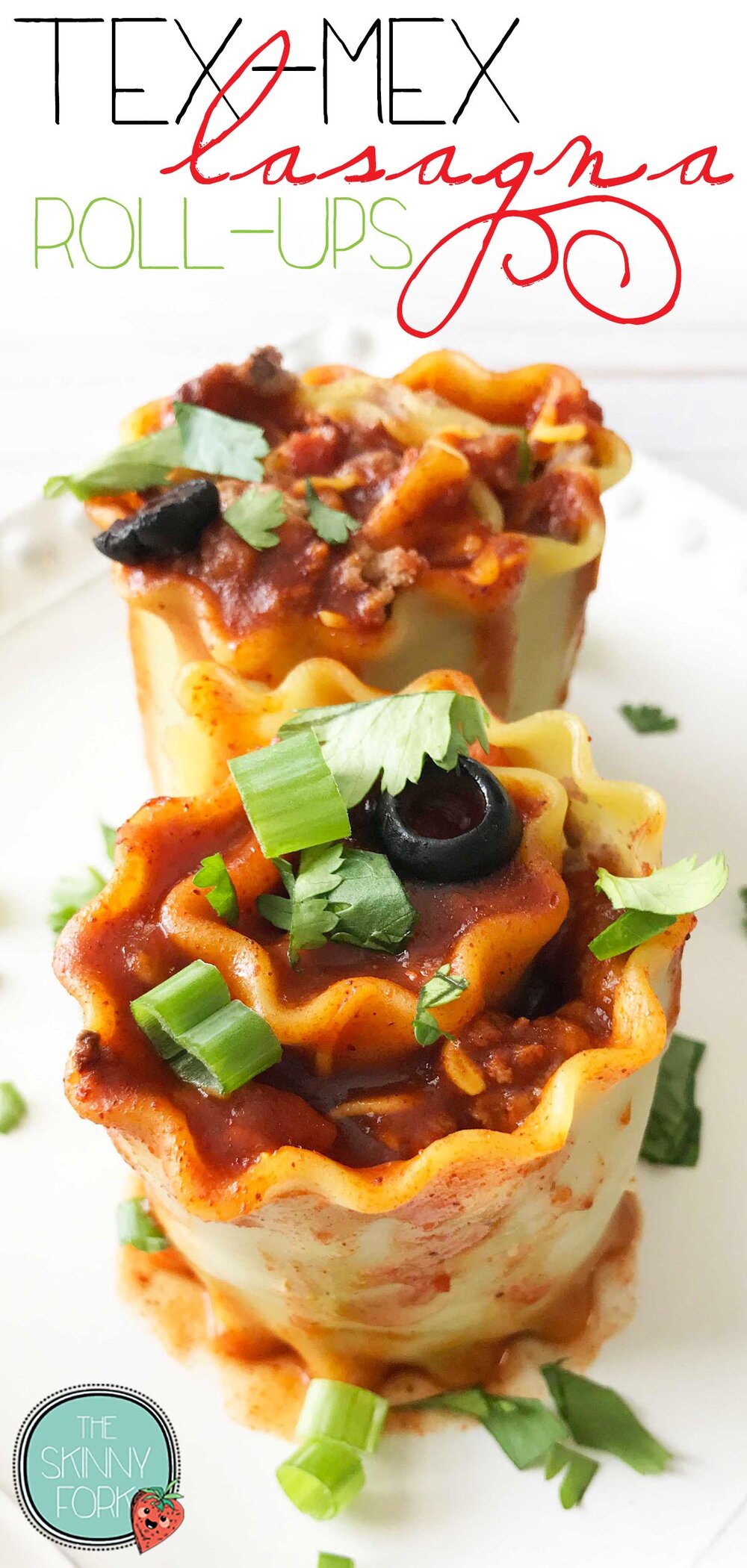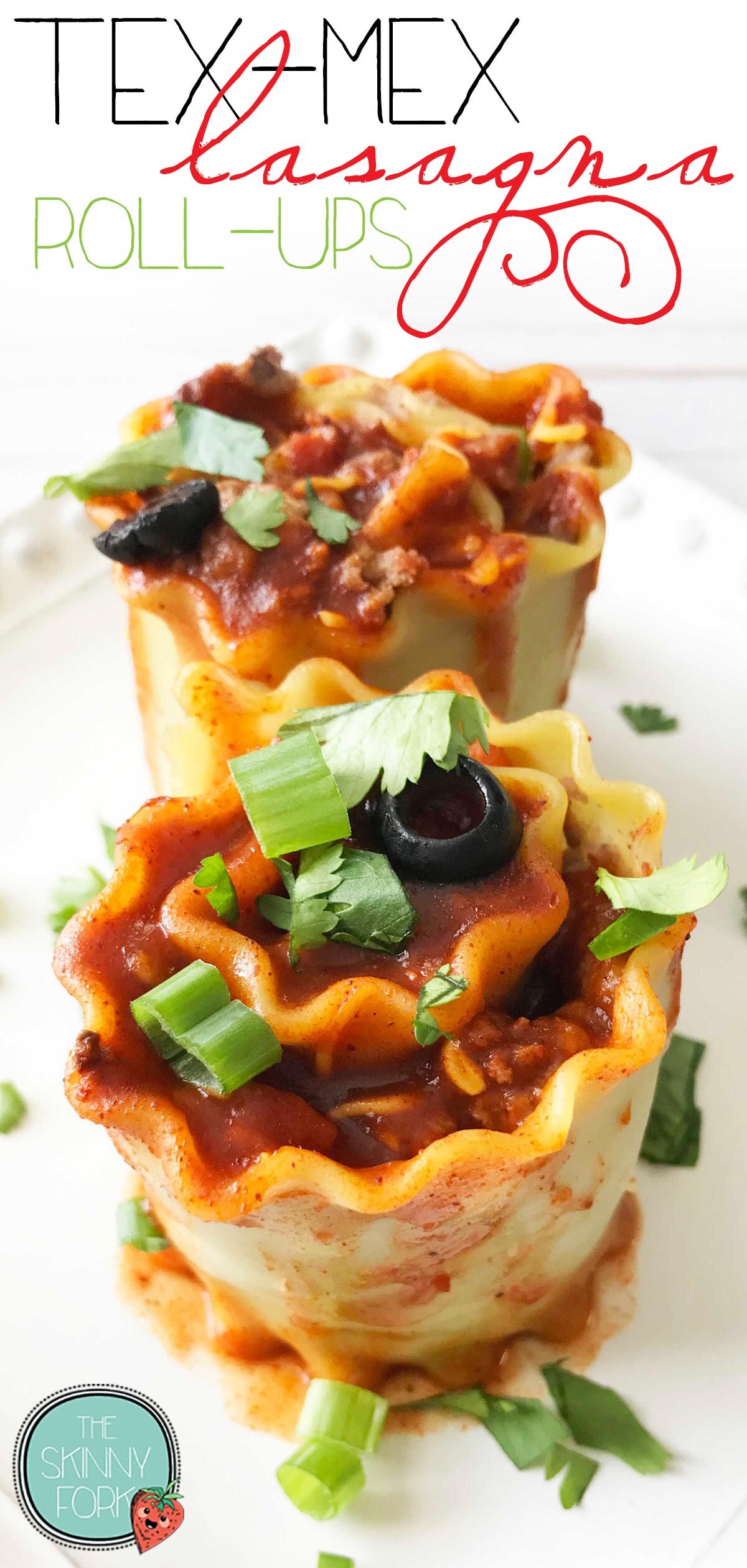 Tex-Mex Lasagna Roll-Ups
TheSkinnyFork.com
Delicious individual lasagna rolls that have a fun Tex-Mex twist. Beans, taco meat, and cheese all rolled up together and cooked in red enchilada sauce for a quick and easy weeknight dinner!
Prep Time:
10 Minutes •
Cook Time:
25 Minutes
The Skinny:
Servings: 12
•
Serving Size: 1 Lasagna Roll
•
Calories: 221
•
Fat: 6 g
•
Saturated Fat: 3 g
•
Carb: 26 g
•
Fiber: 4 g
•
Protein: 17 g
•
Sugar: 3 g
•
Sodium: 371 mg
Ingredients:
•
1 Lb. Extra Lean Ground Beef
•
10 Oz. No Salt Added Diced Tomatoes & Green Chilies
•
1 Tbsp. Taco Seasoning (I used homemade.)
•
12 Skinner Lasagna Noodles, Cooked according to package.
•
1 C. Refried Black Beans
•
1 C. Reduced Fat 2% Shredded Cheddar
•
1 (10 Oz.) Can Red Enchilada Sauce
•
Optional: Chives, Black Olives, Avocado, Plain Fat Free Greek Yogurt.
Directions:
Preheat the oven to 350 degrees F. and lightly coat the inside of a 13x9" baking dish with non-stick cooking spray; set aside.

Heat a large skillet over medium-high heat and add the 1 Lb. ground beef to it. Cook to brown.

Add in the 10 Oz. can of diced tomatoes & green chilies and 1 Tbsp. of taco seasoning. Continue to cook for a couple of more minutes or until heated through.

Once done, remove the skillet from the heat and lay the cooked lasagna noodles out.

Spread about 2 Tbsp. of the 1 C. of refried black beans out onto each lasagna noodle.

Divide the meat evenly among each of the lasagna noodles and top each with about 1 Tbsp. of shredded cheese.

Spread half of the 10 Oz. can of enchilada sauce into the bottom of the prepared baking dish.

Roll each of the lasagna noodles up and (if need be) pin together with a toothpick before setting into the baking dish.

Top with the remaining enchilada sauce and any leftover shredded cheddar.

Place the dish into the oven and bake for about 15 minutes.

Once done, remove from the oven and top with any optional toppings as desired.

Serve right away and enjoy!
Step-by-Step Photos:
Nutritional Claims: Sugar Conscious • Egg Free • Peanut Free • Tree Nut Free • Soy Free • Fish Free • Shellfish Free • Pork Free • Crustacean Free • Celery Free • Mustard Free • Sesame Free • Lupine Free • Mollusk Free • Alcohol Free • No Oil Added • No Sugar Added • Sulphite Free
You can find Skinner pasta in Texas and surrounding states. I picked up a few varieties at my local Walmart, along with everything else I needed for this dish.