Cheers with a Mexican Marzipan Atole or Peanut Atole Hot Drink with Maicena!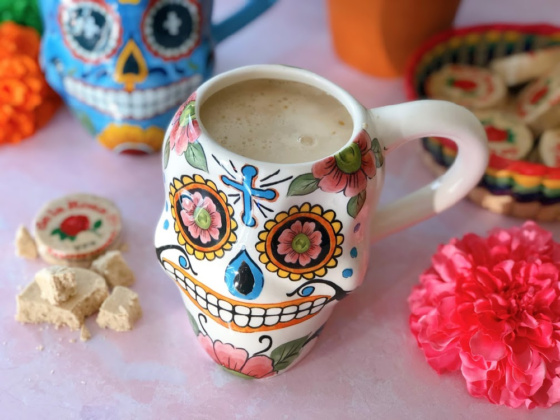 Atole (ah-toe-lay) also called atol. This is the quintessential Mexican hot beverage made with fine corn flour called Maicena. This is a fine flour that is diluted and then added to hot milk or water to make the Mexican marzipan atole.
Atoles have either fruits and nuts. But when chocolate is added becomes a champurrado. We love them all especially the guava atole.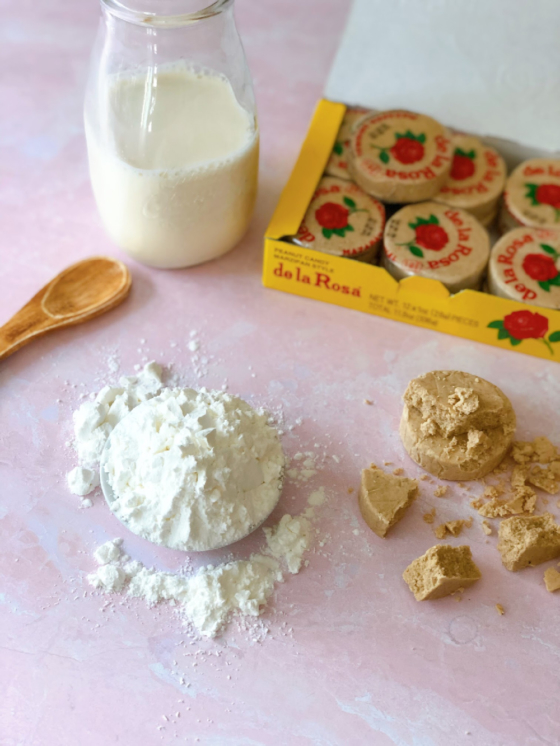 The Mexican Marzipan Atole is a delight. Are you ready to try it?
The recipe for the marzipan atole is simple. It has peanut Mexican mazapn, maicena or cornstarch, and milk. First, mash the peanut marzipan using a fork. Add this to the blender along with milk.
Pour the peanut marzipan milk mix into a saucepan or an aluminum jug and cook it in the stove. While the blend warms dilute cornstarch with water in a separate bowl.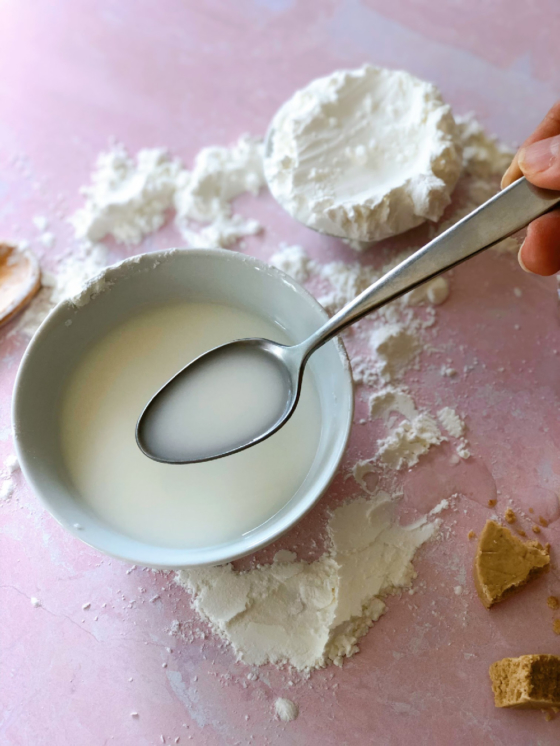 When the peanut milk mix is bubbling, add the diluted cornstarch and stir until the peanut atole comes together. It is ready when the drink is smooth and velvety. Serve the Mexican marzipan atole hot on your favorite cup, and enjoy.
After the first sip, the feeling of warmth, and coziness is what makes the hot drink so special. Then you will understand why atole is a favorite drink among many Mexican households.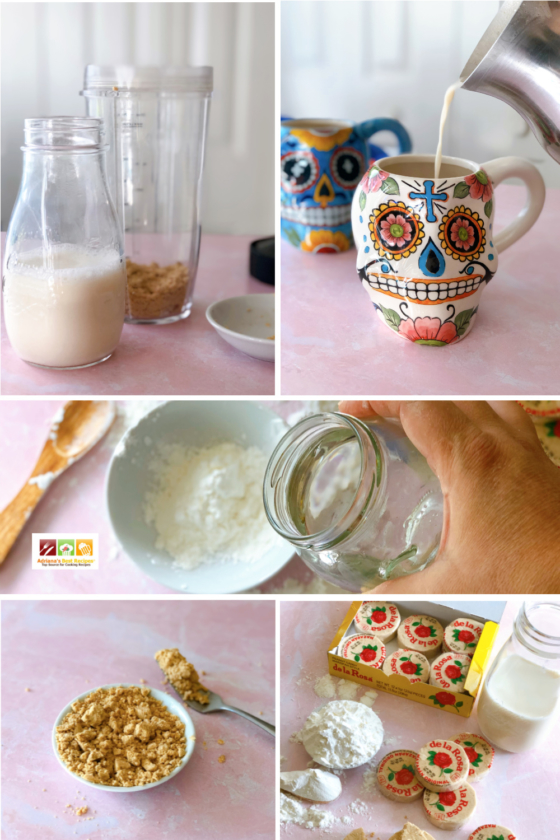 Atole is a sweet tasty hot beverage that hugs you inside out.
This peanut atole beverage is comforting and fulfilling. The hot beverage of choice for breakfast and dinner, and paired with Mexican pastries or Pan de Muerto.
This year we are including the atole in our altar offering since many of my family members enjoyed peanut marzipan. Besides, this candy brings me so many childhood memories.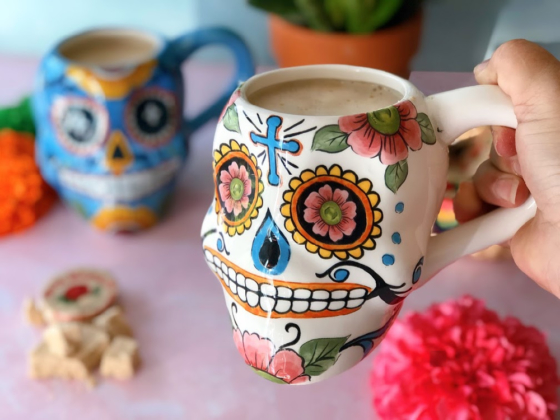 The Mexican marzipan has peanut and sugar. It is round mimicking a cookie. In Mexico, you can find mazapanes in almost all candy stores and at the supermarket.
I was lucky to find them here in Florida and couldnt resist to buy a box and prepare the peanut atole using the Mexican marzipan as the main ingredient.
Mexican Marzipan Atole is in the Menu for Day of the Dead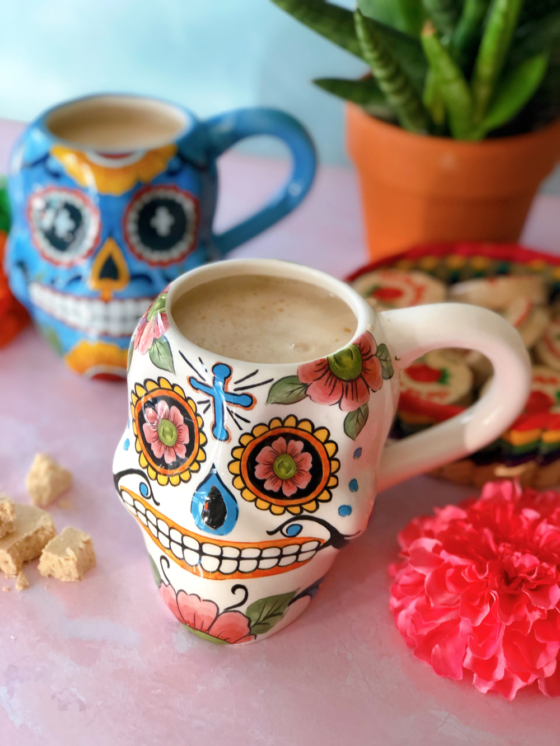 Our altar is ready and the menu this year includes an almond mole with chicken, tlacoyos, cactus salad, sugar skull cookies, candied pumpkin and yams, pan de muerto, and the Mexican marzipan atole.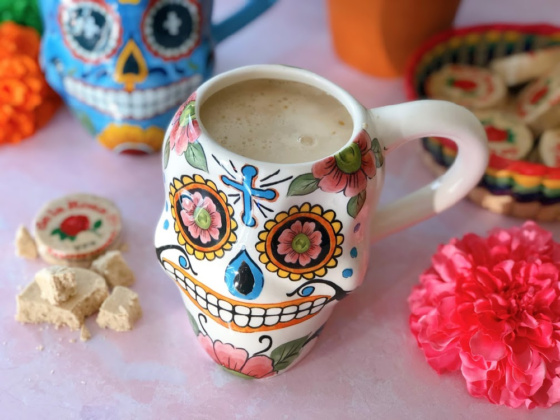 Print
Mexican Marzipan Atole with Maicena
The recipe for the Mexican Marzipan Atole or Peanut Atole Hot Drink has cornstarch or maicena, peanut marzipan, and milk. A true delight! It comes together in a few minutes a must-try for breakfast or dinner.
Keyword
atole, day of the dead, peanut butter
Author
Chef Adriana Martin
Equipment
Aluminum milk jug

Wooden spoon

Mixing bowl

Measuring spoons

Blender
Ingredients
2

cups

milk

or water

2

peanut marzipan pieces

or 2 tablespoons of powdered peanut butter

1 1/2

tablespoons

cornstarch

or maicena

1

teaspoon

sugar

optional
Instructions
Dilute the cornstarch with water and mash the peanut marzipan pieces.

Add the crumbled marzipan to the blender and pour the milk. Blend like a smoothie.

Add the blended milk with the peanut marzipan to an aluminum milk jug or a saucepan and cook until milk starts bubbling and you know it is hot.

Until then add the diluted cornstarch and continue mixing with a wooden spoon or a milk frother. The atole will be ready when getting a smooth velvety consistency.

Serve hot and enjoy with pastries or tamales.
Nutrition
Serving:
2
cups
|
Calories:
183.19
kcal
|
Carbohydrates:
19.6
g
|
Protein:
8.12
g
|
Fat:
8.06
g
|
Saturated Fat:
4.55
g
|
Cholesterol:
24.4
mg
|
Sodium:
113.31
mg
|
Potassium:
322.08
mg
|
Fiber:
0.17
g
|
Sugar:
14.4
g
|
Vitamin A:
395.28
IU
|
Calcium:
275.72
mg
Follow us on Instagram@adrianasbestrecipeswe publish yummy recipes every day!