Did you see my post about making this incredible 5 ingredient cheese sauce?  I use it on all sorts of items from bread to broccoli.  But, one of my favorite ways to use it is on enchiladas!  Our household loves enchiladas so I'm always loving coming up with new ways to create them. I think I just may have found the best way to make enchiladas: enchiladas with cheese sauce!
Whenever I go to a Mexican restaurant (which I LOVE to do!), I am always drawn to the menu item that lists "smothered in cheese sauce."  It's something I never thought to do at home, and it's indulgent! I've always wondered how they do it, and finally figured out how to make enchiladas with cheese sauce at home!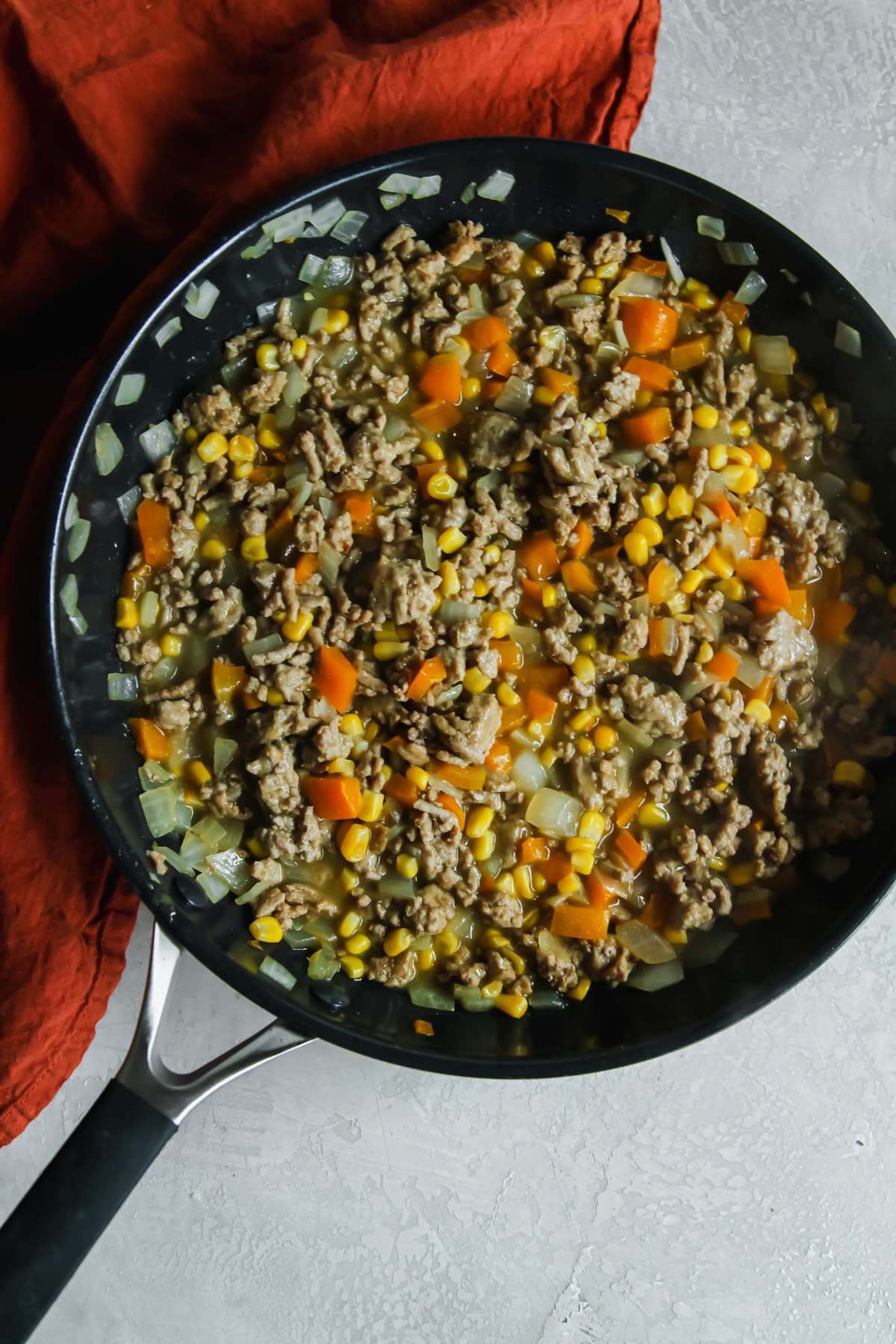 I should note – I have a friend that never orders the "smothered in cheese sauce" item because she's always afraid it will be soggy.  If you cook this properly, you'll just have amazing, delicious enchiladas and nothing soggy to worry about-the cheese crisps up the top of the enchiladas!
This recipe is simple to put together and using your homemade cheese sauce brings enchiladas to the next level.  And if you want them extra cheesy, you can always add in some shredded cheddar or shredded Mexican cheese on top.  Why not?!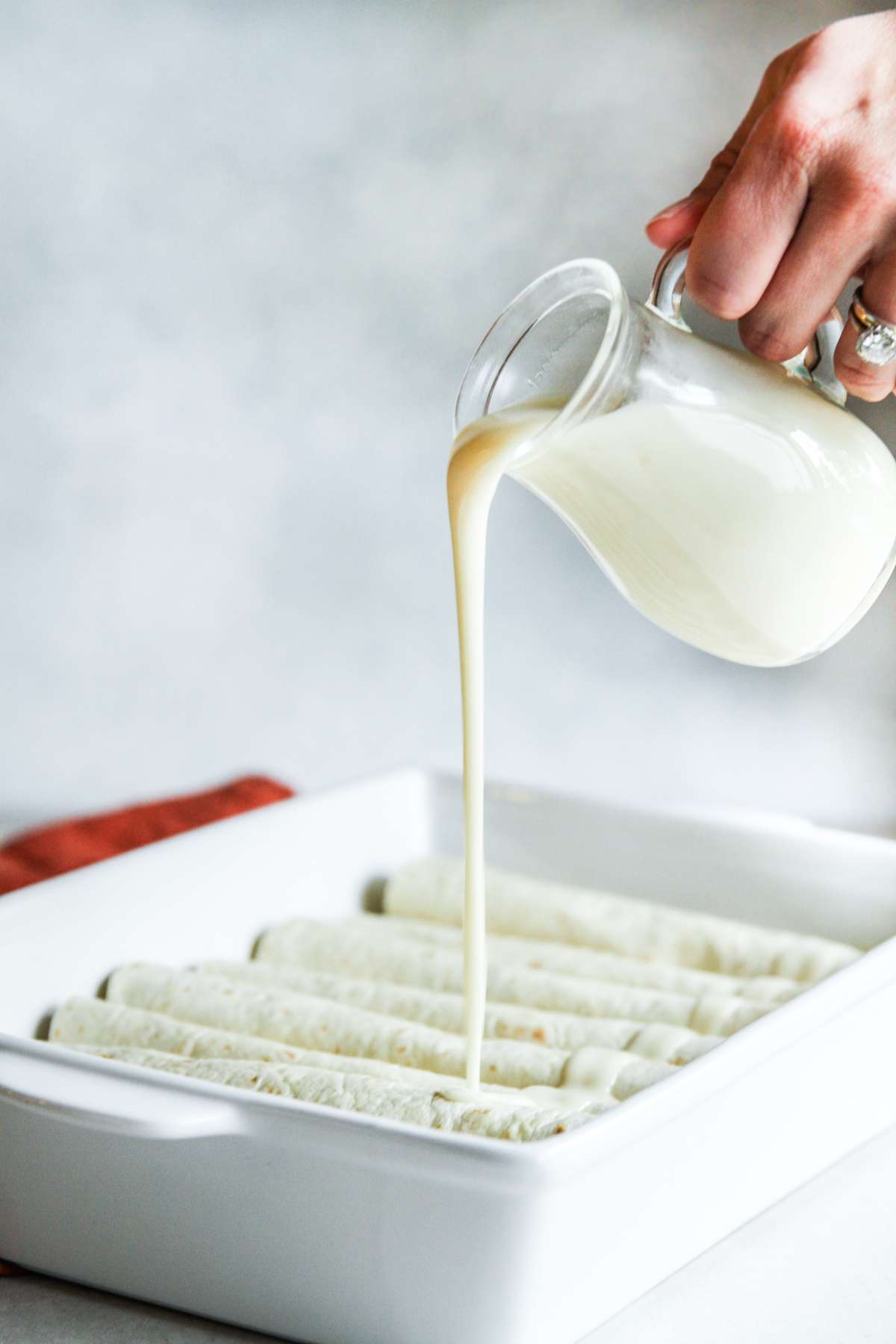 I made these enchiladas with ground turkey, but these could easily be made with ground beef or ground chicken instead.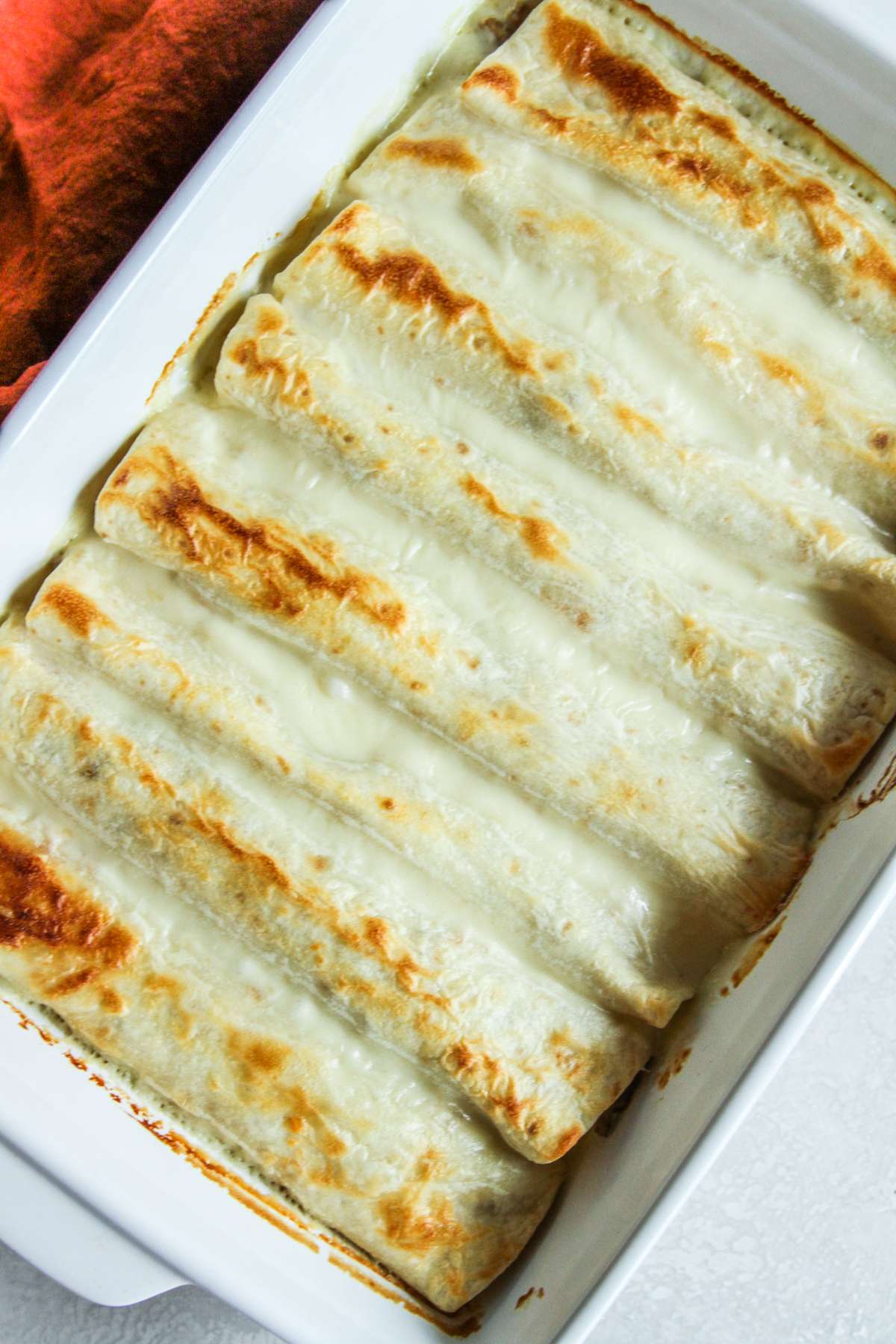 Before the twins were born, I prepped a handful of meals so I would have something to eat on those days that were extra crazy.  One of the things I made was my freezer chicken enchilada casserole.  Enchiladas – in their many iterations – reheat so nicely, which is why they always top my list of freeze meals.  
I have some great enchilada recipes on the blog, but I realize that I have never really made traditional enchiladas.  I  have a list of enchilada-related recipes (below), but it was about time to create a classic enchilada.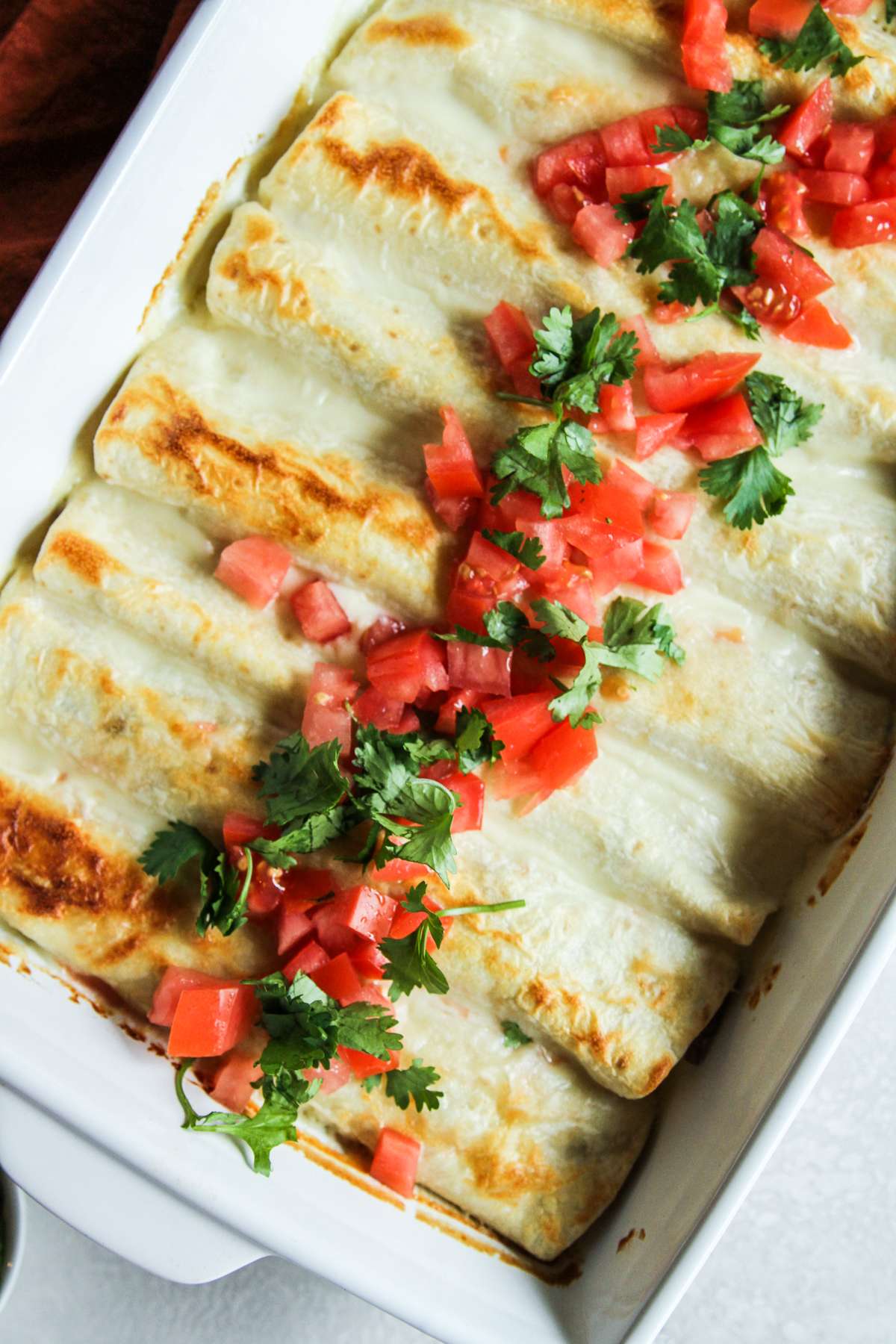 At our house, we almost always cook with ground turkey, as opposed to ground beef.  So I like to think that these are slightly healthier, if you ignore the whole smothered in cheese thing.  You could, of course, switch it up and use ground beef or chicken.  And one of my favorite tricks that I've shared in other posts, is to use a rotisserie chicken that you can buy already made at the grocery store.  Rotisserie chicken has become my best friend since my days have become exponentially more busy!
Yield: 4 servings
Enchiladas with Cheese Sauce
A classic enchilada recipe topped with homemade cheese sauce. Enchiladas with cheese sauce, made with ground turkey
Ingredients
2 teaspoons olive oil (or canola oil)
1/2 of a large yellow onion, chopped
1 bell pepper (any color), chopped
1 package ground turkey, about 1.25 pounds
1 Tbs cumin
2 teaspoons chili powder
1 teaspoon garlic salt
1 cup corn kernels (I use frozen corn)
1 can (14.5 oz) enchilada sauce, to heat level of choice
1 package ~10-10" tortillas (large tortillas)
1 large tomato, chopped (for topping)
1/2 cup chopped cilantro (for topping)
Instructions
Preheat oven to 400. Lightly spray a baking dish with cooking spray and set aside.
Cook onion and pepper in 1-2 teaspoons olive oil for 2 minutes
Add in ground turkey, cumin, chili powder and garlic salt and cook over high heat, breaking up turkey until cooked through and no more pink remains
When everything is done cooking, add corn in. Stir.
Roll about 2 big spoon fulls of mixture into each tortilla. Put tightly rolled tortillas into baking dish until the dish is full of rolled tortillas.
Pour cheese sauce over the top of enchiladas.
Cook at 400 for 15 minutes, until edges are slightly brown and cheese sauce is bubbly. Remove from oven.
Top with diced tomatoes and cilantro.
The post Enchiladas with Cheese Sauce appeared first on Sweetphi.