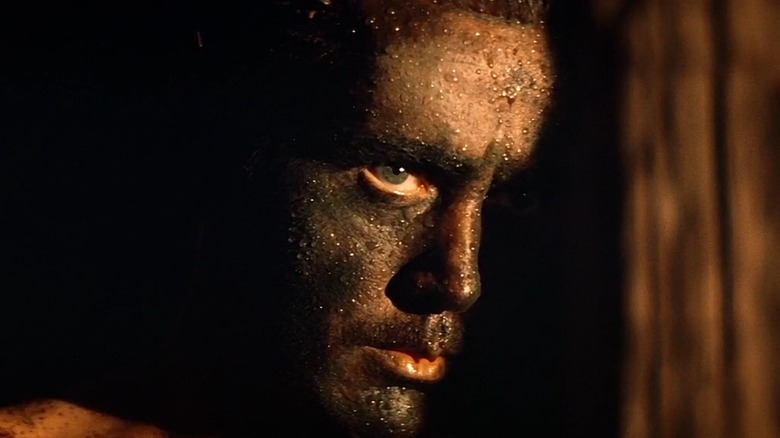 The Vietnam War had an unprecedented impact on the development of modern filmmaking. The war itself occurred during a downward spiral for major studios, as the luster of the "Golden Age of Hollywood" had depleted throughout the 1960s.
The '70s saw the rise of a new generation of filmmakers. As the old system crumbled, studios began to take risks on younger filmmakers who revitalized the industry with their original voices. Directors like Francis Ford Coppola, Steven Spielberg, George Lucas, Brian de Palma, and Martin Scorsese had an infectious love of cinema (both Hollywood-centric and international), and spearheaded a new generation of auteur directors.
Films specifically about the Vietnam War were far more nuanced and daring than the classic World War II films of Old Hollywood, and covered all aspects of combat itself, the systematic causes and government responses, and the impact the conflict had on veterans. The war continues to inspire fascinating films to this day -- here are the 15 best.
Platoon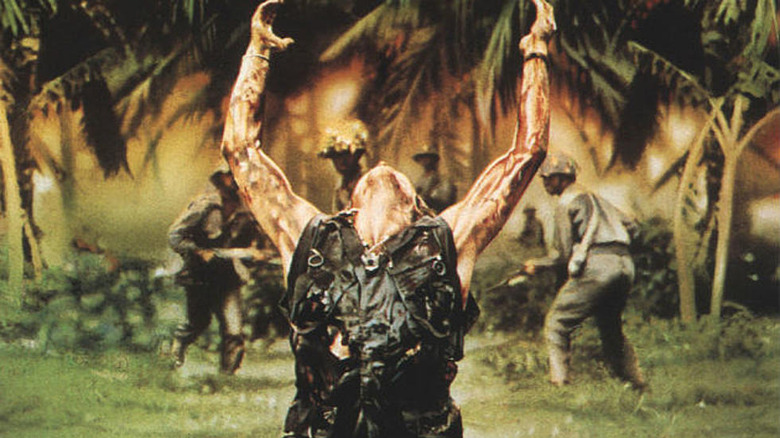 Oliver Stone is one of the most openly political filmmakers in Hollywood, and often depicts controversial moments and figures in American history through his radical anti-authoritarian perspective. Stone is deeply skeptical of what motivates those in power, and much of Stone's point-of-view was shaped by the pivotal experiences he had as a young man. In 1967, Stone enlisted in the U.S. Army, and served in the Vietnam War. Seeing the country he thought he knew engage in a conflict he saw as unjust came as a shock, and he used his first-hand knowledge of the war to make one of the greatest films of his career.
"Platoon" follows a story close to Stone's own. The film stars Charlie Sheen as the young, idealistic Chris, who enlists for service in Vietnam. Chris is unique among his squad, as many of his fellow soldiers were drafted and had no choice about their participation, but Chris is comforted during his initial training by his superior, Sergeant Elias (Willem Dafoe). Elias' warmth is a sharp contrast to the rival Sergeant Barnes (Tom Berenger), who embraces his dominant position and encourages troops to devastate the foreign soil. Chris is shocked by the civilian casualties.
Elias' execution at Barnes' hands is one of the most devastating moments in film history, and solidified "Platoon" as an unflinching historical document. "Platoon" took home the Academy Award for best picture, best director, best sound, and best film editing.
Full Metal Jacket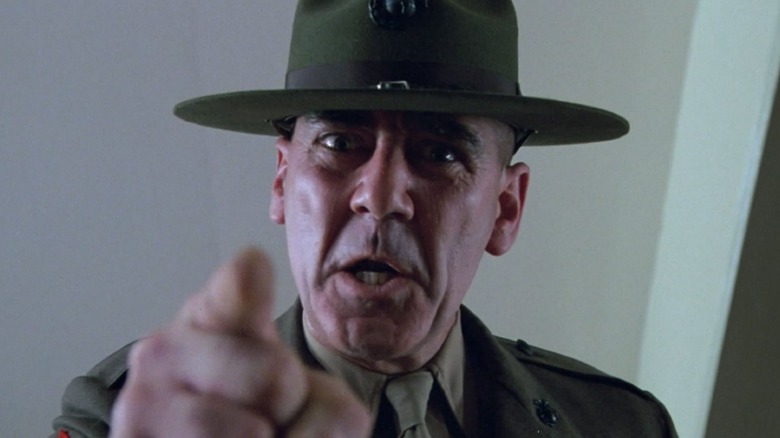 There is perhaps no filmmaker more attuned to isolation and paranoia than the legendary Stanley Kubrick, who frequently developed experimental films that utilized off-putting stylistic choices. By breaking the typical molds of scene construction and shot composition, Kubrick informed the audiences of his characters' internal torment and shaken worldview. It's a skill that made him uniquely equipped to depict the savagery of the American military in the Vietnam War, and to show how the conflict inspired seemingly good people to engage in horrible acts of violence.
"Full Metal Jacket" explores the entirety of the soldiers' experience in Vietnam. The first half of the film centers on the training of new recruits, and how the competitive environment leads many soldiers to relentlessly bully and harass one another. One victim is Private Leonard Lawrence (Vincent D'Onofrio), whose sensitivity and humble nature make him a target among his brothers-in-arms. Lawrence is humiliated throughout his training and suffers a mental breakdown, going on a numerous rampage and killing both himself and his cruel senior drill instructor Gunnery Sergeant Hartman (Lee Ermey).
The second half of the film follows Lawrence's former squad mates, primarily Joker (Matthew Modine), as they fight in the war itself. While many Kubrick fans have argued that the latter section is not as compelling as the first hour, the ending of "Full Metal Jacket" successfully conveys the confusion of war. The haunting final rendition of a seemingly familiar Disney tune is one of Kubrick's most impactful conclusions.
Born On The Fourth Of July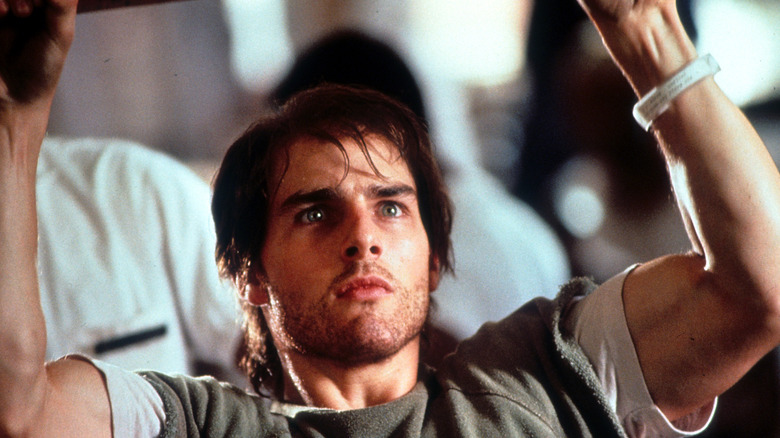 Returning to the Vietnam era a few years after "Platoon," Stone decided to look at the changing public opinions about the war itself through the prism of one man's personal experience. Where "Platoon" excels thanks to its fantastic ensemble, 1989's "Born on the Fourth of July" features Tom Cruise in one of the greatest performances of his career as Ron Kovic.
As a teenager, Kovic is beloved by his local community, seen as a promising young man who excels in both his burgeoning education and sports career. The idealistic Kovic grew up inspired by President John F. Kennedy's rallying cries to young Americans, and he's intrigued by an offer made by United States Marine Corp members that visit his school. His reputation makes him a seemingly natural fit for the heroism promised by service, but Kovic's perspective shifts dramatically once he enlists and sees the Vietnam War for what it is. He's left with post-traumatic stress disorder after a haunting experience in which he witnesses soldiers killed by "friendly fire."
Confined to a wheelchair, Kovic becomes a powerful anti-war activist and the voice of a movement. Cruise was uniquely positioned for the role. Following the recent successes of "Top Gun" and "Risky Business," Cruise was a natural fit for Kovic's charismatic younger self, but also handled the veteran's struggles later in life exceptionally well.
First They Killed My Father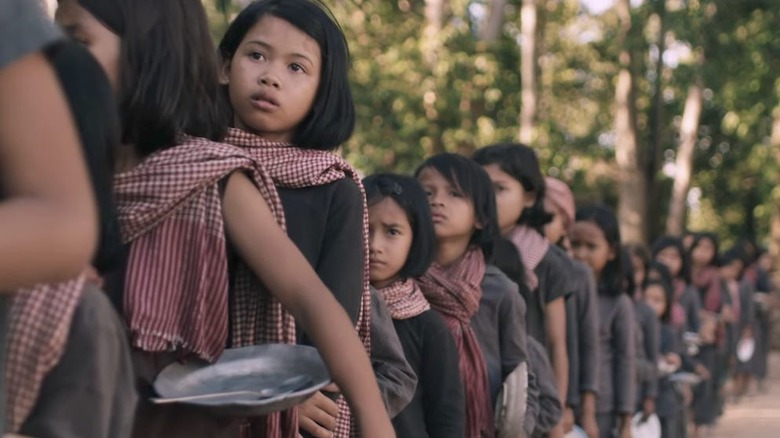 Simultaneous to the hardships experienced by Vietnam civilians during the 1970s was an ongoing crisis in Cambodia. As a result of the increased United States military presence in Vietnam and the subsequent bombing campaigns, the neighboring country broke out into the Cambodian Civil War. Using the logic that they were under threat by Americans, the Khmer Rouge regime forced families to flee their homes and become refugees.
Angelina Jolie's film "First They Killed My Father" details the experiences of seven-year-old Loung Ung (Sreymoch Sareum), who is forced to become a child soldier by the Khmer Rouge after her family is massacred and her siblings are sent away to labor camps. It's an unflinching depiction of war through a child's eyes, as Loung can't understand the complexities of the political situation or how she's being lied to. Sareum delivers one of the greatest child performances in recent memory, capturing all the horror and confusion of the disturbing situation.
The Deer Hunter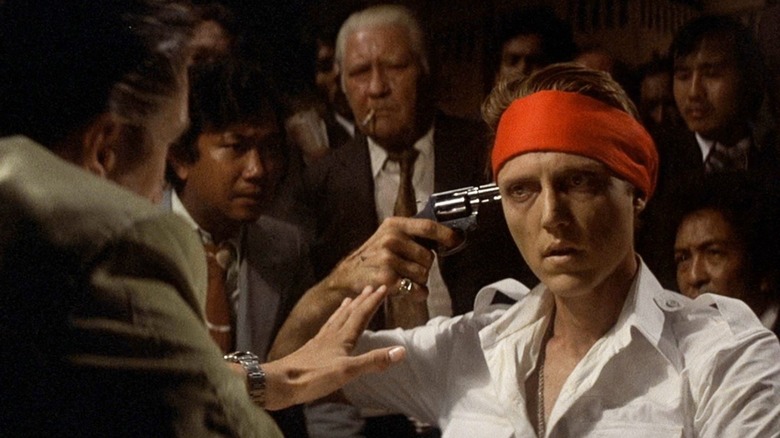 "The Deer Hunter" is unique among Vietnam War movies because it shows the entirety of the war's impact on a generation of friends. Director Michael Cimino is no stranger to crafting long epics (he would helm the notorious bomb "Heaven's Gate" immediately after), but the three hours of "The Deer Hunter" are needed to give the deepest insights into a small Western Pennsylvania community.
The film follows lifelong friends Mike Vronsky (Robert De Niro), Steven Pushkov (John Savage), and Nick Chevotarevich (Christopher Walken), all of whom work a challenging day job at a steel mill, but take pleasure in their getaway deer hunts in the wilderness. Nick proposes to his lifelong crush Linda (Meryl Streep) shortly before they all depart for Vietnam service, but by the time they've returned neither the joy of the deer hunts of Nick's relationship will stay intact.
The wartime sequences are chilling, particularly those that focus on the lethal Russian roulette games the men are forced to play when they're captured. Nick in particular can't shake how close he came to death, and aims to replicate the feeling when he returns. Walken won the Academy Award for best supporting actor for his moving depiction of a man with post-traumatic stress disorder, and the film also took home best picture, best director, best sound, and best film editing.
Da 5 Bloods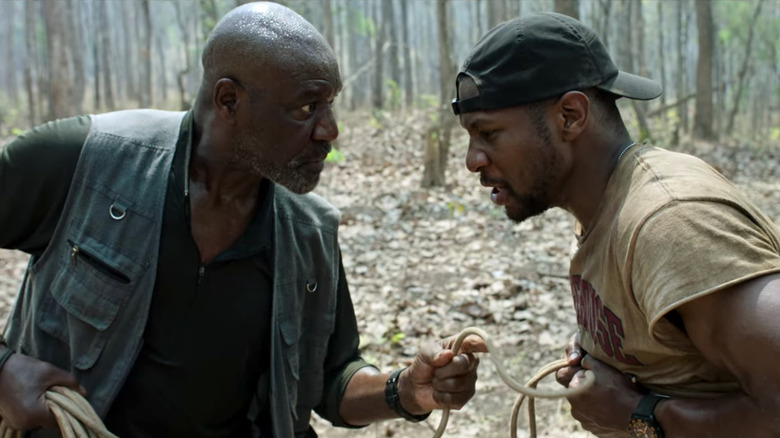 Although early Vietnam War films did a great job of questioning the role of the American government in the war and its underlying justifications, they were less successful in offering a well-rounded depiction of the men who served. Black soldiers weren't only subject to the same rigors of combat, but faced internal racism as they served a nation that didn't respect them. Spike Lee aimed to fix this disparity with his modern war epic "Da 5 Bloods," which explores the lasting impacts of Vietnam service on a group of Black soldiers.
The film follows veterans Paul (Delroy Lindo), Otis (Clarke Peters), Eddie (Norm Lewis), and Melvin (Isiah Whitlock Jr.) as they venture back to Vietnam in order to uncover the body of their former captain, "Stormin'" Norman Earl Holloway (Chadwick Boseman). Otis invites Paul's son David (Jonathan Majors) to join them, but Paul has become consumed by hatred in his older years and feels responsible for Norman's death. Norman's body also contains buried treasure, and Paul isn't keen on David's plan to donate it to Black charities.
Rescue Dawn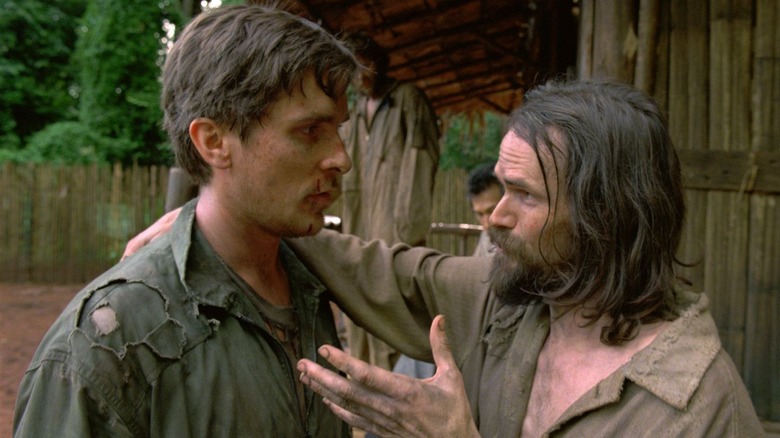 Werner Herzog is a fascinating filmmaker, as he often spends time crafting meticulously detailed environments through a fly-on-the-wall perspective. The accuracy and realism with which he shoots make grim subject material even more punishing to watch, and as a result his film tackling the Vietnam War is an absolutely gut-wrenching experience. "Rescue Dawn" is one of the most violent Vietnam films ever made, but it shows the underrepresented story of prisoners-of-war who aren't granted the moments of heroism that are lionized by mainstream media.
Christian Bale gives a stunning performance as Lieutenant Dieter Denglar, a top U.S. Army pilot who is shot down above Laos and subjected to torture and captivity. Bale is renowned for his radical physical transformations, and he captures Denglar's depleting physical state as he's starved and beaten. The always-underrated character actor Steve Zahn gives a similarly committed performance as Lieutenant Duane Martin, Denglar's squad mate who suffers alongside him.
Last Flag Flying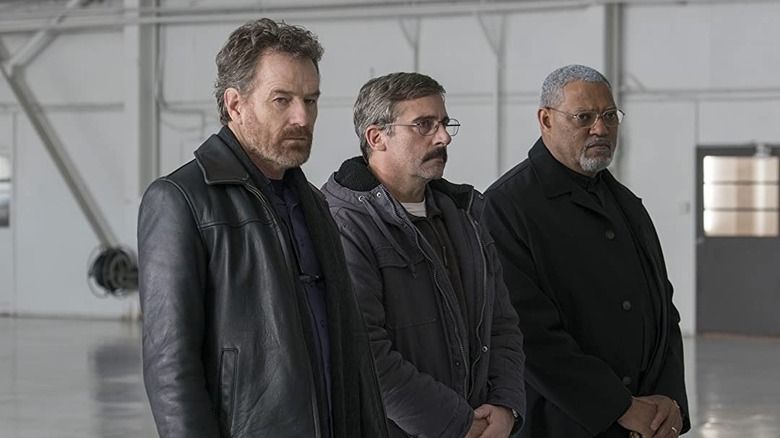 The wounds of Vietnam can last generations, and the experience of veterans can't be easily healed. While films released shortly after the conflict, like "Coming Home" or "In Country," were able to depict the immediate impacts of post-traumatic stress disorder, some modern films explore how veterans reconsider their youthful experiences as they grow older. Richard Linklater's highly underrated 2017 film "Last Flag Flying" follows three veterans who are reunited by tragedy and reminisce on their adolescent years.
Larry Shepherd (Steve Carrell) learns that his son Larry Jr., who followed in his father's footsteps and enlisted for military service, is killed in Iraq. Larry asks his two former Vietnam squad mates, Sal Nealon (Bryan Cranston) and Richard Mueller (Laurence Fishburne), to accompany him as they transport Larry Jr.'s body to the site of the funeral. Few filmmakers write naturalistic dialogue as well as Linklater.
First Blood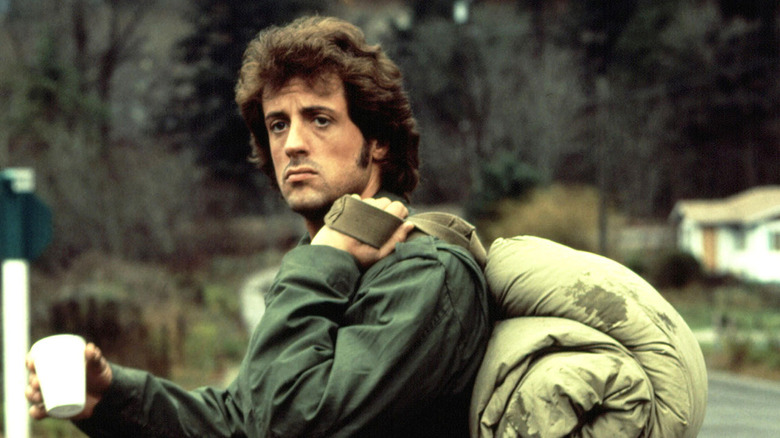 Sensitive, nuanced depictions of post-traumatic stress disorder are rare on screen, as it's very easy for Hollywood films to over-dramatize the experiences of the men who served in Vietnam for the sake of a story. Trauma isn't always easily relatable, and some soldiers experienced hardships that weren't immediately identifiable. David Morrell's novel "First Blood" depicted a sadly common case in which a struggling veteran was taken advantage of; a particularly cruel local police department pushes the man into violence, and he becomes a fugitive.
Although it eventually became an action franchise that had little to do with that original premise, 1982's adaptation of "First Blood" is an incredibly stripped-down character drama featuring a genuinely sensitive, emotional performance from Sylvester Stallone as John Rambo. Stallone may be often criticized for his cheesy action roles, but he's clearly a great dramatic actor, and few among his movie star counterparts could deliver such a heartbreaking turn as the one he gives in "First Blood."
Good Morning, Vietnam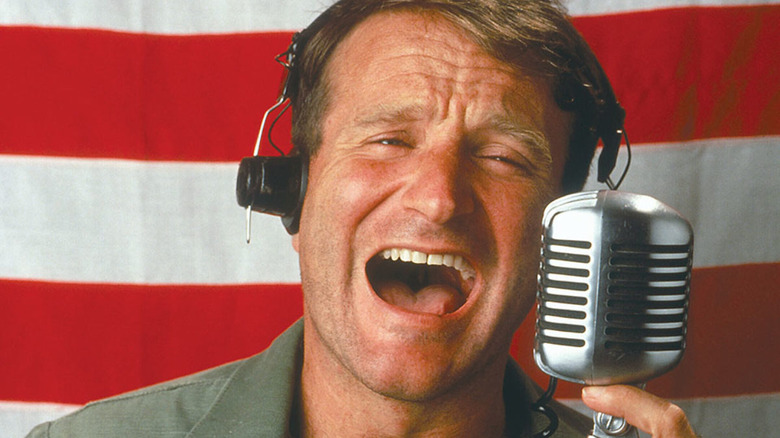 It's inspiring to see those who tried to make the most of their experiences in Vietnam and share in their fleeting moments of joy. Even with its comedic approach to the material, "Good Morning, Vietnam" doesn't downplay the plight of the men in service, but rather gives insights into what their daily lives actually looked like. The film follows Robin Williams as Adrian Cronauer, a radio DJ on the United States military's Armed Forces Radio Service. While in Saigon, Cronauer's popular program provides witty insights to fellow servicemen who are coping with isolation and hopelessness.
Williams is so inherently charismatic as an actor that he can alleviate even the darkest of moments. Cronauer is very compassionate, and while he's respectful of the boundaries he can't cross, he also clashes with the dominant senior officers who aim to silence him. In these moments, "Good Morning, Vietnam" is able to hint at the infrastructural issues within the military itself; what could be the problem with someone as good-spirited as Cronauer? Williams earned an Academy Award nomination for best actor for his effervescent performance.
The Post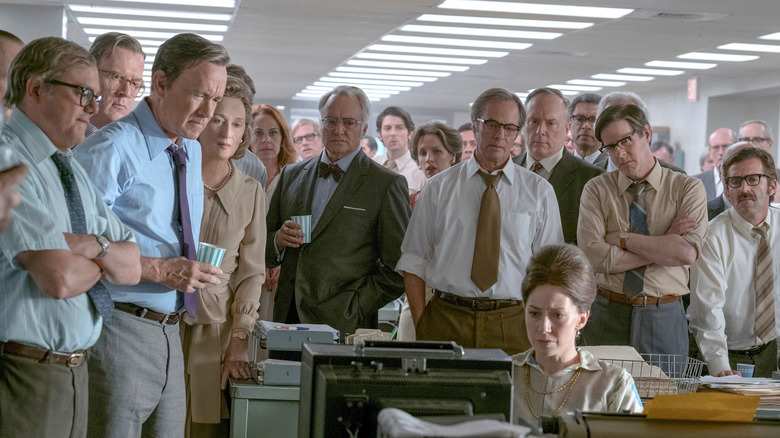 Steven Spielberg isn't just one of the greatest filmmakers of all time, but a distinguishably American storyteller who has explored the nature and consequences of freedom throughout his career. Adventure movies like the Indiana Jones franchise showed characters with foundational beliefs confronting evil, while Spielberg explored the more complex nature of America's historical achievements in films like "Amistad," "Saving Private Ryan," "War Horse, "Lincoln," and "Bridge of Spies."
With "The Post," Spielberg examined the role of the press in keeping the public informed about shady actions by the government that represents them. The film follows the groundbreaking investigation by The Washington Post editor Ben Bradlee (Tom Hanks) to uncover the Pentagon Papers, which revealed the 20-year history of America's involvement in the Vietnam War that was shielded from the public eye. Bradlee works alongside publisher Katharine Graham (Meryl Streep) to publish the documents as the journalists come under fire for being unpatriotic and are threatened with legal action.
The Trial Of The Chicago 7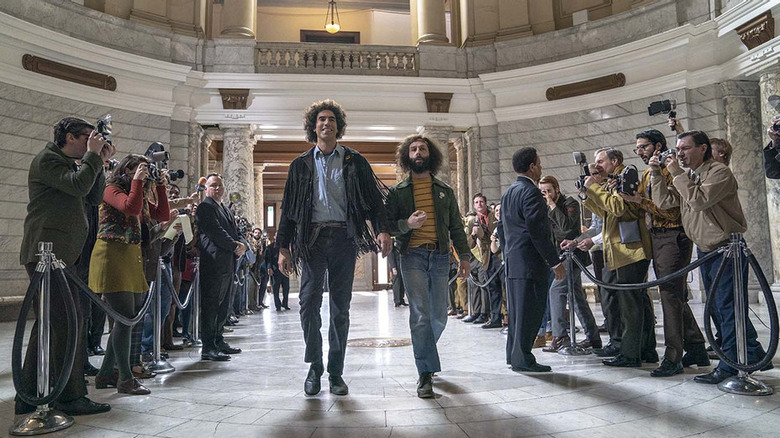 The Vietnam War energized the American public and sparked discourse on a national level, highlighting the importance of activists. Many protesters were subject to fierce responses by the government; the infamous incident outside of the 1968 Democratic National Convention resulted in actual violence, as anti-Vietnam War protestors expressing their dissatisfaction with party policy fought with the Chicago police. "The Trial of the Chicago 7" depicts the aftermath.
A team of activists made up of Abbie Hoffman (Sacha Baron Cohen), Jerry Rubin (Jeremy Strong), Tom Hayden (Eddie Redmayne), Rennie Davis (Alex Sharp), David Dellinger (John Caroll Lynch), Lee Weiner (Noah Robbins), John Froines (Daniel Flaherty), and the Black Panther Party representative Bobby Seale (Yahya Abdul Mateen II) are charged with inciting a riot, and the film follows the resulting court battle in extreme detail. Writer-director Aaron Sorkin uses his signature smart, savvy dialogue to detail a groundbreaking case in which the men face consistent roadblocks from the corrupt judge, Julius Hoffman (Frank Langella).
Forrest Gump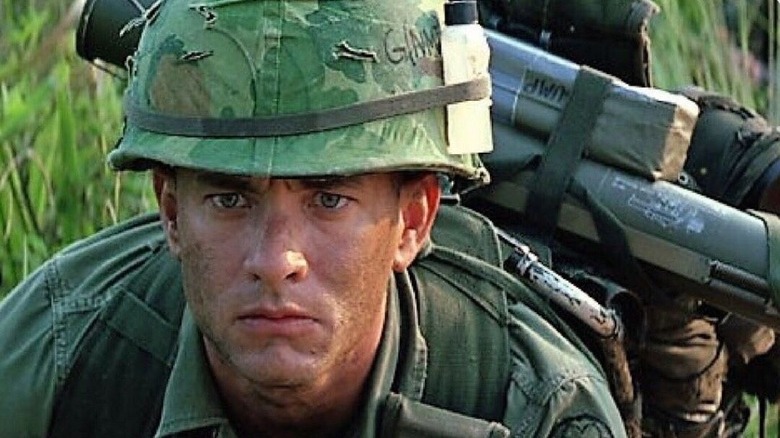 Robert Zemeckis examines American history through a fascinating point-of-view in "Forrest Gump." The life of the mentally disabled titular character (Tom Hanks) intertwines with key political and social events throughout the '60s and '70s, and the cutting-edge CGI and fantastic production design helped to recreate the renowned events in vivid detail. Forrest's life, particularly his relationship with his childhood crush Jenny (Robin Wright), is forever altered by what he sees in the Vietnam War.
Zemeckis uses Forrest's limited comprehension of world politics as a satirical device throughout the film; because he rarely questions what's happening, even when it seems strange, Forrest doesn't question the dishonorable activity in Vietnam. His blind acceptance is counterbalanced by a sensitive depiction of military service shown through Lieutenant Dan Taylor (Gary Sinise), Forrest's friend and protector. It's only after returning home and seeing Jenny's involvement in anti-war protests that Forrest reckons with what he's seen, and the ramifications the war has on the public psyche.
Apocalypse Now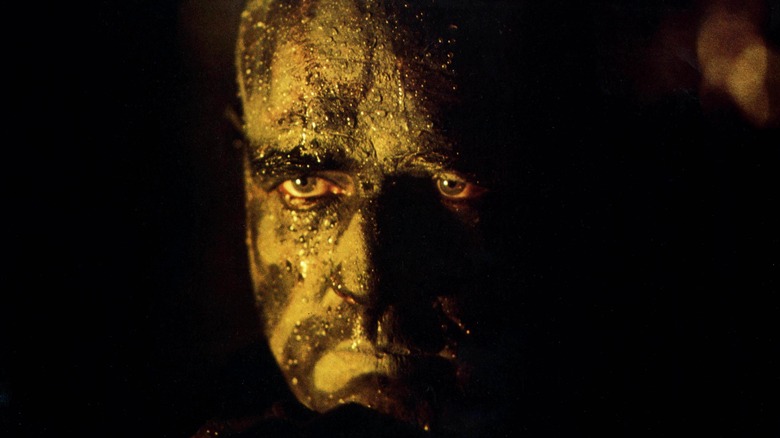 With "Apocalypse Now," Francis Ford Coppola brought the "War is Hell" mentality that many young people felt in relation to the Vietnam War to the big screen, defining an entire generation's perception of the conflict itself in the process. The early stages of the "Apocalypse Now" script were developed by George Lucas, who was heavily influenced by the author and philosopher Joseph Conrad and his bleak anti-imperialist novel "Heart of Darkness."
When taking the reins of "Apocalypse Now" from his American Zoetrope co-founder, Coppola expanded upon the nihilism with an unforgettable story about soldiers who have all but abandoned their humanity. The film centers on Lieutenant Colonel Bill Kilgore (Martin Sheen), who is tasked with tracking down the unhinged Colonel Walter Kurtz (Marlon Brando). Kurtz was once a respected figure in the U.S. military, but he has abandoned his post and leads his own cult-like following on the edge of Vietnam.
The production of "Apocalypse Now" was a grueling experience that gave Coppola a series of breakdowns, which are chronicled in the equally gripping 1991 documentary "Hearts of Darkness: A Filmmaker's Apocalypse." Coppola never felt that the film was completed to his satisfaction and has recut, reassembled, and retooled it several times in subsequent years, most recently with the "Apocalypse Now Redux" version.
Across The Universe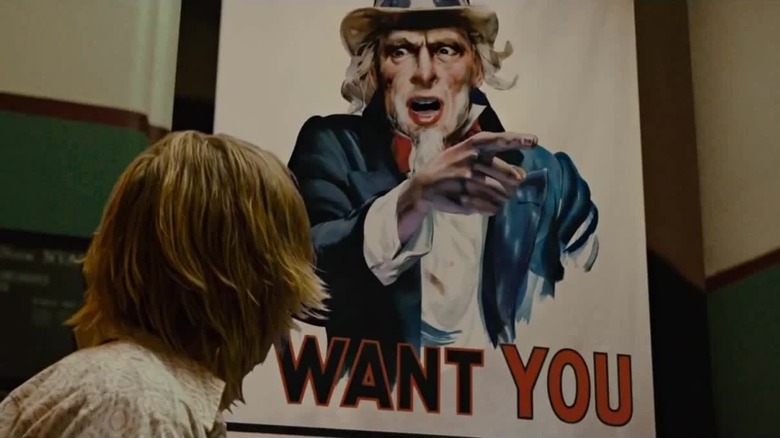 The music of the Beatles was intertwined with the Vietnam War, as the band's music more or less defined the '60s, and the breakup of the Fab Four came as the war efforts in Vietnam increased. The 2007 musical "Across the Universe" utilizes the music of the Beatles to explore the lives of young characters who come of age in a changing America. Jude (Jim Sturgess) is a British worker who travels to the United States to search for his father, and falls in love with college student Lucy (Evan Rachel Wood). Lucy's brother Max (Joe Anderson) is Jude's first friend when he enters the new country.
Max is fiercely anti-authoritarian and rebels against his well-adjusted parents by dropping out of college, and as a result he's drafted for service in Vietnam. Max is a humorous character who adds comic relief to the opening scenes, so seeing the upbeat young man experience the horrors of war is harrowing. Director Julie Taymor uses the Beatles songs "I Want You" and "She's So Heavy" to vividly depict Max's recruitment, combat days, and eventual hospitalization.
Read this next: The 11 Best Music Documentaries Of All Time
The post The 15 best movies about the Vietnam War appeared first on /Film.