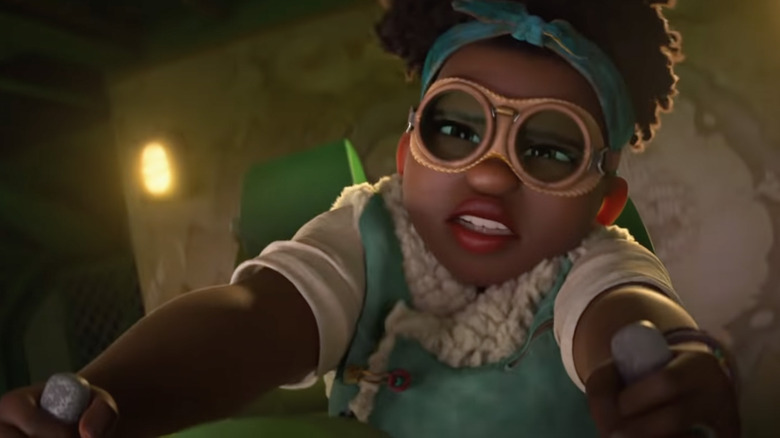 Disney's upcoming pulp sci-fi animated film "Strange World" is only two months away from release. In the film, a family of explorers heads out into a strange new territory, where odd creatures and plants wait to be discovered. /Film's own Vanessa Armstrong had a chat with "Strange World" Heads of Animation Amy Smeed and Justin Sklar about the creation of characters and how the team came up with their looks. 
According to Sklar, the creation of the Clade family and the film's style was a group effort, with everyone "approaching it from a different direction." He said: 
"I think [director Don Hall and co-director and writer Qui Nguyen] had a very specific vision about how we're going to approach the pulp thing and that became something for Jin Kim, who was drawing the characters, because it became this kind of French comic thing — there's a little bit of Miyazaki in there and it wasn't really conceived as a late '40s, early '50s Disney thing."
From what we've seen in the teaser and the footage that was shown at Disney's D23 Expo, the team came up with some wild things, from a sentient blob named Splat to fish schools that fly and walking mountains. Using animation legend Hayao Miyazaki -- who is responsible for masterpieces like "Howl's Moving Castle" and "Spirited Away" -- as an example is a pretty good way to win us over. Though the animation style in the bits the public has been shown definitely has a Disney feel to it, the creativity of the creatures feels very much in line with the Studio Ghibli animator.
'I Want This To Be Fun'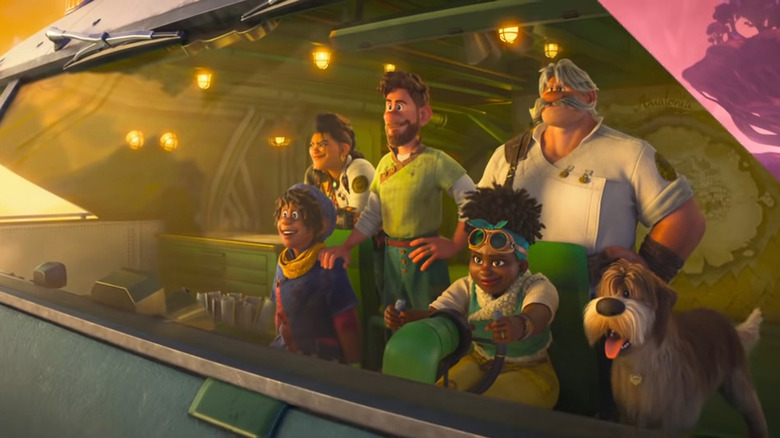 Disney Animation has a long history, going back a literal century, but it's refreshing to hear that other influences are being used. Sklar didn't say which French comics were mentioned during these meetings, but the idea of a family of explorers immediately brings to mind Hergé and his "Tintin" comics, especially since both main characters have a dog as an intrepid companion.
Sklar said that the animation style took "six months of conversations with our animation supervisors, where every week we would each show something that we thought was cool." It's an interesting challenge, trying to both expand the concepts for characters and creatures with a joining of ideas, then reining it back in so everything feels like it belongs in the same film. Sklar said:
"[Director Don Hall] told us early on: 'I want this to be fun. I want it to be fun to watch. I want it to be fun to animate.' So we just watched stuff that was fun to animate. And we talked about why it was fun, and it's fun because they're making bigger, wilder choices."
'A Place Of Infinite Mystery'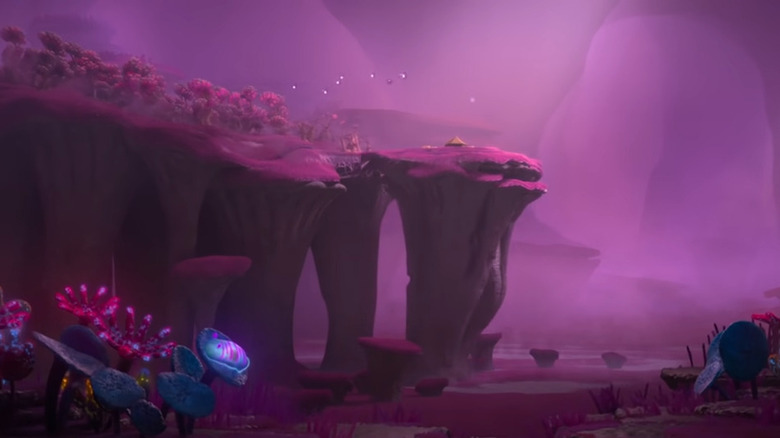 The trailers have certainly been fun to watch. How Disney makes us fall in love with a blob of blue goo running away from a dog in a simple teaser is beyond comprehension. Creative characters alone don't make this a pulp-style film, though. It also involves style. Sklar said:
"It's also fun because it's playing with depth in the screen. I think that fits a little bit into the pulp vibe of it — there are some sequences where we lean into sort a comic book thing. And so it was there in the back of our minds, but honestly I feel like we were just chasing the idea of fun and then trying to put a structure around it."
Leaning into comic book aesthetics is a pretty safe bet when you're looking to create a visual language for a film like this. It's something most viewers are at least semi-familiar with.
"Strange World" is directed by Don Hall ("Big Hero 6," "Raya and the Last Dragon") with co-director and Emmy Award-winning writer Qui Nguyen ("Raya and the Last Dragon"). Jake Gyllenhaal voices the main character, Searcher Clade. The cast also includes Dennis Quaid (Jaeger Clade), Jaboukie Young-White (Ethan Clade), Lucy Liu (Callisto Mal), and Gabrielle Union (Meridian Clade). It has also been reported that Alan Tudyk will play a role. Here is the official synopsis for the film:
Jake Gyllenhaal ("The Guilty," "Spider-Man: Far from Home") lends his voice to Searcher Clade, the son of a steadfast explorer. The original action-adventure journeys deep into an uncharted and treacherous land where fantastical creatures await the legendary Clades, a family of explorers whose differences threaten to topple their latest—and by far— most crucial mission.
"Strange World" will be released on November 23, 2022.
Read this next: 10 Anime Movies That Deserved To Win The Oscar For Best Animated Feature
The post Strange World's Characters Borrow Less From Disney, More From Pulp Stories and Studio Ghibli [Exclusive] appeared first on /Film.