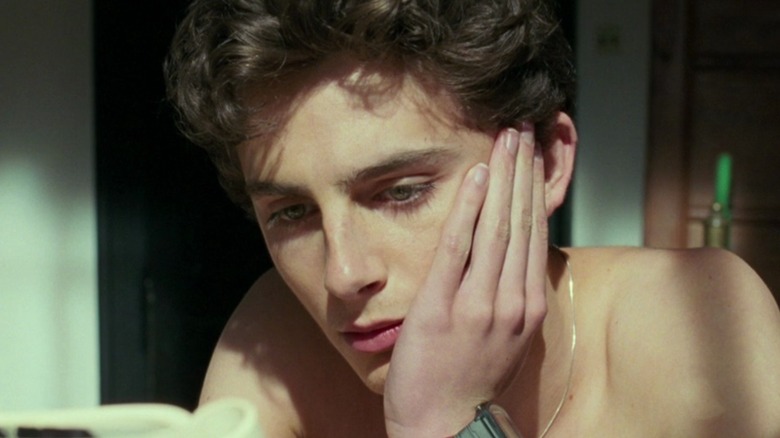 Five years on, it's easy to take for granted what an immediate tectonic shift "Call Me by Your Name" represented for queer, romantic, and contemporary cinema. It's one thing for a film to tell a love story between two men as sensitively and perceptively as it did, capturing every one of its microscopic inner movements and honoring their cumulative enormity, with both parties allowed to come alive so thoroughly as characters. To do so while also offering up one of the decade's most profound treatises on the mysteries of human connection, the nuances of identity, and the existential significance of giving oneself over to another is something else entirely.
In countless different ways, "Call Me by Your Name" is a wholly unique film, and — as its rabid fans know well — the most reliable way to recapture its magic is to watch it again and again. Existing as it does as part of a storied tradition of films concerning Achillean connection, Luca Guadagnino's film can just as well serve as an invitation to get to know other, less heralded areas of queer cinematic history. Here, we have compiled 15 movies that, in one form or another, tap into some of the same qualities that make "Call Me by Your Name" special.
Caravaggio (1986)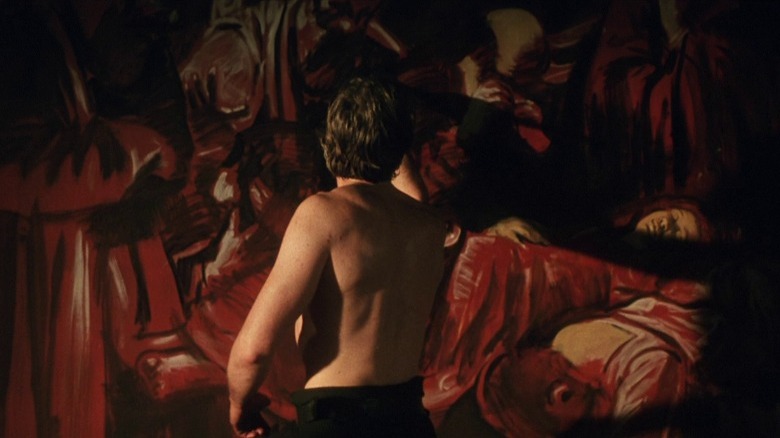 Derek Jarman is unquestionably one of the most important queer auteurs of all time. His movies understood passion, eroticism, performance, and the possibilities of sensual sublimation intrinsic to cinema like few others. Although a large amount of his career was spent consciously running away from the English-language mainstream (and its obsession with fixed narrative forms) in pursuit of freer, more revelatory designs, he did occasionally dabble in "conventional" filmmaking. The most notorious example is arguably 1986's "Caravaggio."
"Conventional," of course, is a word applied liberally to any Jarman film, even this ostensible historical biopic of Italian Baroque painter Michelangelo Merisi da Caravaggio. Played by Nigel Terry as an adult, the film's Caravaggio looks back on his life as he's about to die, his story told to us in surreal, enigmatic fragments lit and framed with a subject-appropriate eye for ravishing beauty. That alone makes it a vital companion piece to the rich Italian tableaux in "Call Me By Your Name," but there's more. As a drama with dashes of romance, "Caravaggio" offers a rare opportunity to see Jarman's singular understanding of gay desire expressed through a command of dramatic stagecraft, with every moment of seduction or intimacy telling its own epic story in miniature.
Happy Together (1997)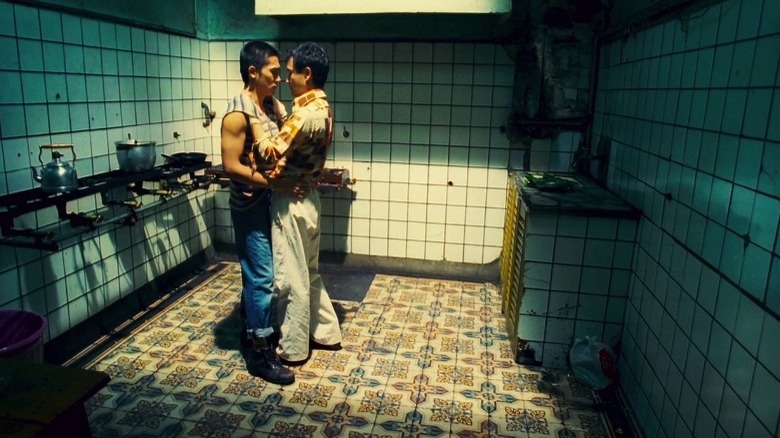 There have been few films about gay love in the past three decades as defining and influential as Wong Kar-wai's "Happy Together," which broke any number of glass ceilings when it cast a spell over film festival audiences worldwide 20 years before "Call Me by Your Name." Considerably messier as a romance, it nonetheless takes a similar view of love as a force of nature, crashing against water bodies and man-made structures alike.
The film stars Leslie Cheung and Tony Leung Chiu-wai as lovers from Hong Kong whose tempestuous dynamic takes them all the way to Argentina, breaks them apart, and then brings them tentatively back together. This candid and unrestrained depiction of a queer relationship's ups and downs was made at a time when these stories were seldom considered in their totality by non-queer audiences. Po-Wing (Cheung) and Yiu-Fai (Leung) are a couple at the end of their rope, given to senseless bickering and fits of mutual hostility. Like so many such couples, they're also drawn to each other like celestial bodies in orbit, and Wong captures each movement in that mutually destructive dance with his typical grand flair.
Wild Reeds (1994)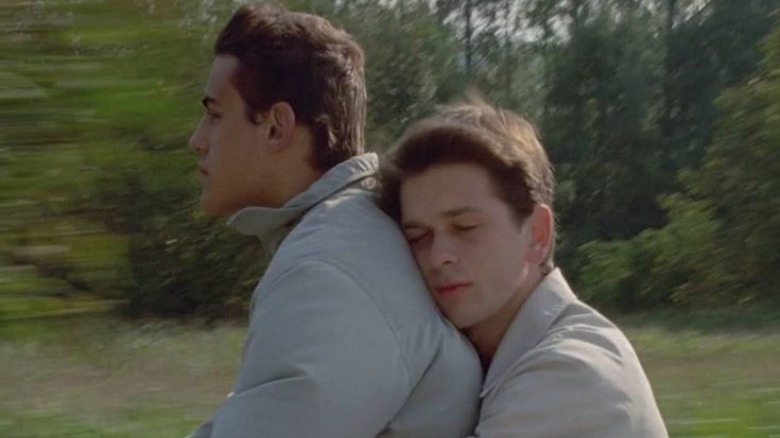 The delicate balance of forces that allows Elio and Oliver to carve out their little world together in "Call Me by Your Name" is made even more brittle and urgent by Elio's youth; it is crucial to the film that Oliver is his first great love, their attraction blossoming alongside Elio's own emotional maturity. For this and other reasons, André Téchiné's "Wild Reeds" is a film that brings Luca Guadagnino's film to mind at multiple junctures.
Set in 1962 in southern France, "Wild Reeds" follows the growing-up process of François Forestier (Gaël Morel), as he comes to terms with realities including (but not limited to): his homosexuality, his class status, the toll of the then-ongoing Algerian War, and his utter cluelessness about the world around him. Framed through the fraught dynamics of François' relationships with his friends Maïté (Élodie Bouchez), Serge (Stéphane Rideau), and Henri (Frédéric Gorny), this is the rare film that genuinely gets late adolescence, in all its messiness, confusion, unattended longing, and spasmodic pushes towards self-acceptance.
Sunday Bloody Sunday (1971)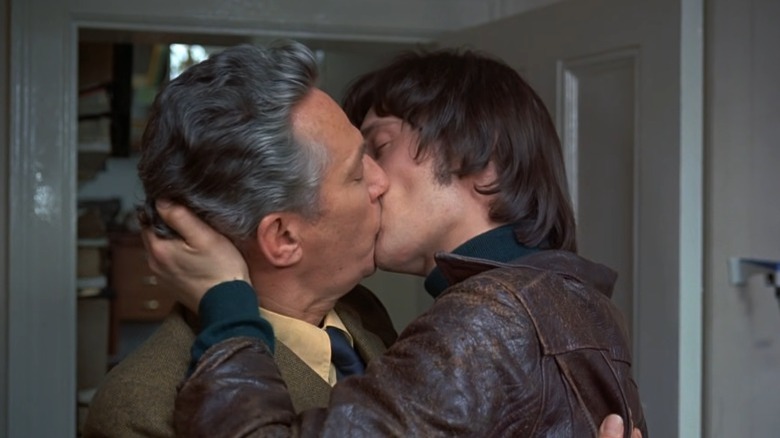 An inarguable bisexual classic, "Sunday Bloody Sunday" achieves a stunning degree of matter-of-factness in the treatment it gives its central subjects ... and not just "for a 1971 movie," either. Starring 1970s icons Peter Finch and Glenda Jackson as competing/complementary vertices of a love triangle, the film finds maverick auteur John Schlesinger and literary luminary Penelope Gilliatt embarking on a concentrated exploration of a very simple subject: love — what it is exactly, what feeds it, what it offers, what it demands back.
Murray Head plays the film's pivotal figure, the young and beautiful Bob Elkin, who is simultaneously and openly dating middle-aged doctor Daniel Hirsh (Finch) and thirtysomething divorcee Alex Greville (Jackson). Perhaps because he reciprocates neither the man's nor the woman's feelings for him with the same intensity, Bob becomes a catalyst for both Daniel and Alex's painful reflections on their lifelong wants and needs as well as the nature of romantic relationships in general. It's like a whole film made out of the same piercing, sobering clarity of Mr. Perlman's speech to Elio.
Beautiful Thing (1996)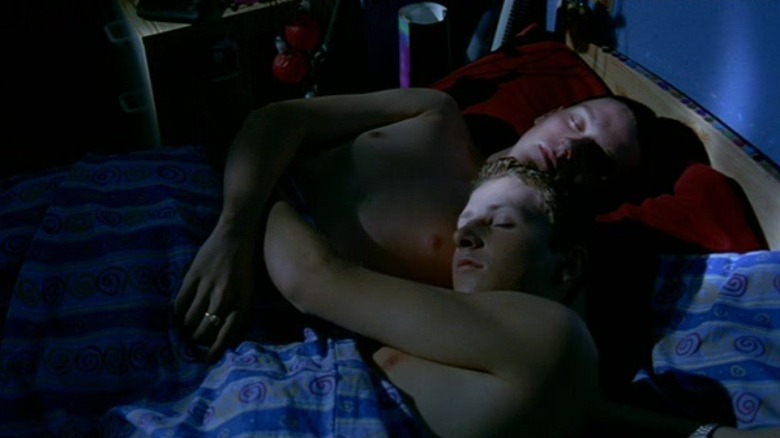 Sometimes, things ought to be simple. The plot of "Beautiful Thing" is as straightforward as a romance (specifically a gay romance) can get: Boy meets boy, boy eyes boy longingly for some time, friendship blossoms, opportunities for physical intimacy ensue, fear and shame interfere, then love prevails. As tender, acutely-observed stories of first love go, it doesn't get much more satisfying or rewarding than this. Unlike "Call Me by Your Name," there's even an honest-to-goodness happy ending to look forward to.
The key to the film's success is director Hettie MacDonald's eye for authentic texture. Set in the council housing complexes of Thamesmead, "Beautiful Thing" often feels like it approximates the experience of watching actual South East London working-class high schoolers work out their unexpected feelings for each other, with both Glen Berry and Scott Neal turning in incredibly convincing performances complemented by a marvelous supporting cast. It's a coming-out story done to raucous perfection.
My Own Private Idaho (1991)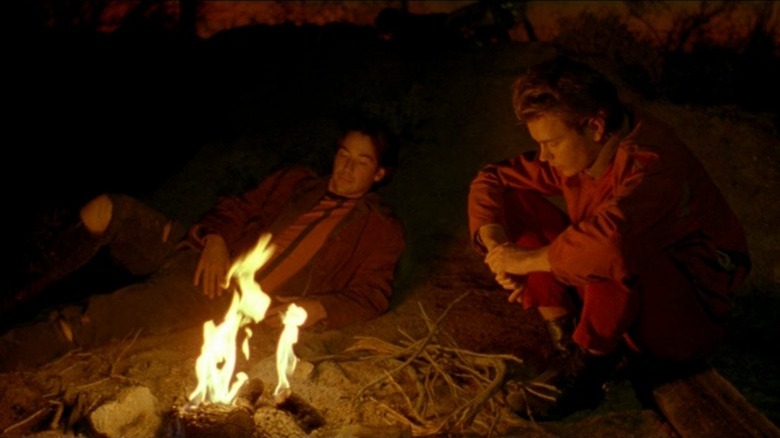 If what draws you to "Call Me by Your Name" is its sadness — the way that Luca Guadagnino aestheticizes deep currents of sorrow into poetic segues teeming with beauty and romanticism — then watching "My Own Private Idaho" is not optional. One of the greatest queer classics of the '90s, Gus Van Sant's deeply personal road movie-cum-Shakespeare modernization conjures up haunting images and emotional gut punches by the minute, occasionally building up to moments so sad — in that specifically queer, specifically vulnerable, and terrifying way — that it's hard to even put oneself through them.
The plot follows two hustlers/best friends named Mike (River Phoenix) and Scott (Keanu Reeves) as they travel the country in search of Mike's estranged mother while turning occasional tricks for money. Mike is gay and in love with Scott, while Scott is straight and ever beyond Mike's reach. With the stage thus set, Phoenix and Reeves engage in one of the rawest, most complex, most hypnotic duets in American cinema history.
Pink Narcissus (1971)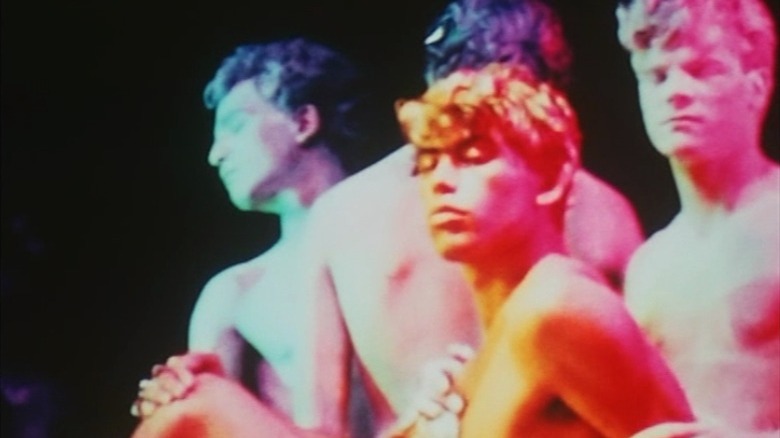 One of the things that makes "Call Me by Your Name" so unique is the way it immerses itself fully into the messy, dreamy, vibrant emotional point of view of Elio Perlman, allowing his interiority to wash over the screen without restraint. That's not always typical of coming-of-age dramas about young men. Indeed, that rare clarity allowed Timothée Chalamet to become the youngest Best Actor Oscar nominee in 78 years (via The Hollywood Reporter). That all this consideration and acuity should be afforded to a queer young man is the icing on top, which is what makes "Pink Narcissus" a great companion piece, even as a wholly different kind of film from "Call Me by Your Name."
Directed by artist and photographer James Bidgood — who credited himself as "Anonymous," leading to decades of speculation over the film's authorship (via The New York Times) — "Pink Narcissus" is an experimental, near-plotless arthouse confection, in which a young gay prostitute (Bobby Kendall) sequestered in his NYC apartment dreams up a series of elaborate erotic fantasies, casting himself as the protagonist in each of them. Bidgood's hallucinatory, lushly-colored images work not only as indelible queer visual poetry but as strikingly revelatory windows into his hero's blooming youthful wants, sexual or otherwise.
Tropical Malady (2004)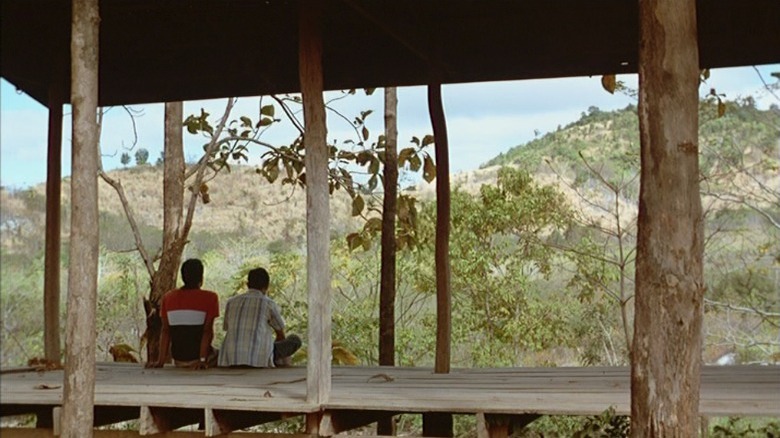 "Just you try going back to normal movies after watching this" is a sentence that could apply just as readily to any film by Apichatpong Weerasethakul. There's no filmmaker more original or visionary working on Earth right now, but it is an especially appropriate way to describe "Tropical Malady" vis-à-vis the broader canon of Achillean romance films.
Which is not to say it doesn't share important commonalities with those films. For instance, "Call Me by Your Name" shares an understanding of love's wordless, sensual, physically intuitive processes, its permeability to nature and weather, and of its elemental pull. The way that Weerasethakul sets about those themes is something every fan of queer cinema owes to themselves to witness. There's not much use in summing up the plot, since its progression is largely a mystery. It starts with two men developing a mutual attraction in the Thai countryside, then gradually opens out into poetic abstraction. What matters is the film itself and the ravishing, transformative experience it provides.
Looking For Langston (1989)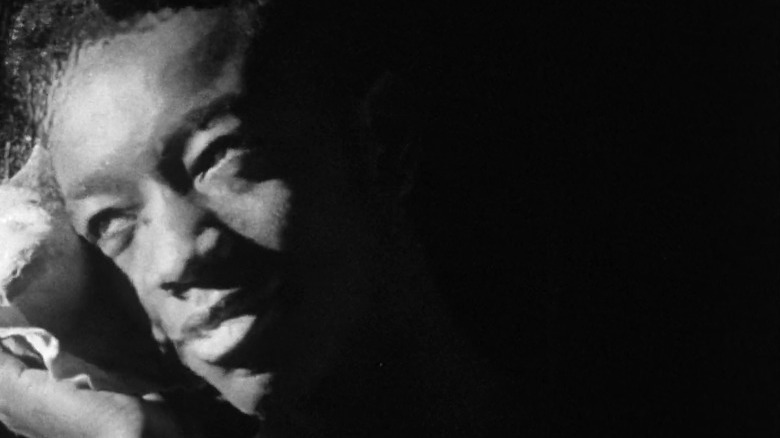 So much of queer life tends to be taken up by the appreciation of art. Be it in the form of impassioned discussions, shared experiences as spectators, or mutually encouraged creation, existing in the world as people of forbidden aesthetic predilections has historically demanded of queer men an authoritative comprehension of the world's beauty. In "Call Me by Your Name," this is demonstrated by the manner of Elio and Oliver's flirtation, which is mediated through Heraclitus passages, variations on a Bach caprice, fragments of ancient statues, and the frenzied beat of a Psychedelic Furs song. In "Looking for Langston," art makes up the very substance of the film as well as the characters' lives.
Part documentary, part fiction, "Looking for Langston" resurrects the spirit of the Harlem Renaissance's queer luminaries by combining quotes from their works, archival footage straight from the 1920s, and surreal inklings of a mythological narrative, all structured loosely around the figure of poet and movement leader Langston Hughes. A free-flowing, gorgeously erotic, endlessly imaginative ode to Black gay desire and creation, it was the film that put Sir Isaac Julien on the map. It remains a must-see memorial to a crucial juncture in 20th-century queer history.
Maurice (1987)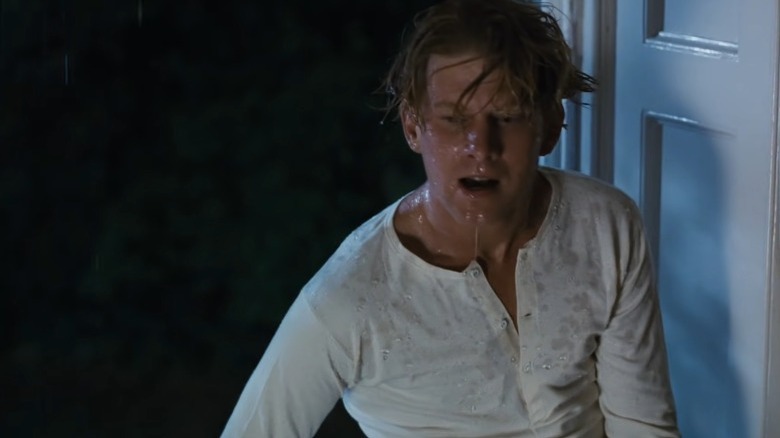 The producer-director power couple of Ismail Merchant and James Ivory was, along with legendary screenwriter Ruth Prawer Jhabvala, responsible for defining a whole cinematic style in the late 20th century with their lush costume dramas under Merchant Ivory Productions. Despite the queerness of its two namesakes, Merchant Ivory only produced one out-and-out queer film in its heyday: "Maurice."
Adapted — by Ivory and Kit Hesketh-Harvey, as Jhabvala was busy — from the eponymous novel by E. M. Forster, "Maurice" tells the life story of one Maurice Hall (James Wilby) as he struggles to find himself and come to terms with his homosexuality in the deeply repressive throes of Edwardian England. The attending romance of stolen glances, subtle overtures, and deeply meaningful consummations against a picturesque background echoes much of what Ivory would do three decades later (to long-overdue Academy Award success) as the screenwriter of "Call Me by Your Name." In many ways, "Maurice" is that film's key genealogical forebear.
Big Eden (2000)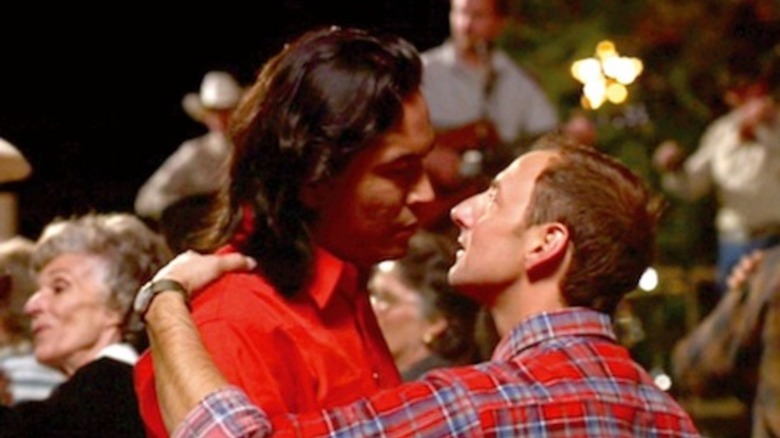 The issue of queer men's relationships to the small towns where they grew up has been explored time and time again in fiction, often under the erga omnes assumption that it's always a proxy for the tension between adult liberation and youthful conservative repression. In "Big Eden," we have a film that opts out of that dichotomy by doing something else entirely with the, shall we say, gays-in-the-country narrative.
Simply put, it is a film that imagines a world in which hate and cultural hostility are non-factors in a gay man's social experience. When New York artist Henry Hart (Arye Gross) travels back to his hometown of Big Eden, Montana to care for his grandfather and mentor Sam (George Coe), he is met with a community that accepts and embraces him wholeheartedly. Instead of being about that, the film follows a more relaxed and wholesome romance structure, as Henry finds himself divided between high school crush Dean Stewart (Tim DeKay) and unexpected suitor Pike Dexter (Eric Schweig), all while reminiscing on his lifelong emotional development. It's the same kind of magic trick as "Call Me by Your Name": A gay love story that presents its kind of love as a mere given, showing what it looks like when allowed to blossom freely.
Your Name Engraved Herein (2020)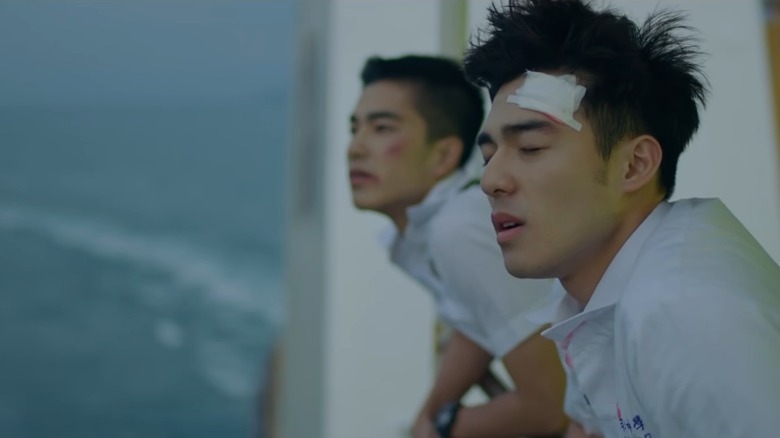 The 1980s were a tumultuous time to be a queer man anywhere in the world, but they were an especially tumultuous time to be a queer man in Taiwan, which was undergoing a complex process of transition away from martial law and towards liberalization. That process brought with it all manner of cultural and societal changes. Such is the peculiar moment that Patrick Kuang-Hui Liu's "Your Name Engraved Herein" chronicles through the figures of Jia-han (Edward Chen Hao-Sen) and Birdy (Jing-Hua Tseng), two high schoolers at an all-boys Catholic school who fall in love unexpectedly.
As heteronormative pressures encroach on them from all sides, Jia-han and Birdy work out in real-time the joys and hardships of being together against the grain of the world, leading to some of the most heart-meltingly melancholy moments of tentative gay intimacy in recent film history, including a final phone call scene to rival Elio and Oliver's. Although more outwardly political than "Call Me by Your Name," "Your Name Engraved Herein" struck a similar nerve with young queer audiences eager for visibility, becoming a historical box office hit in Taiwan (via Taipei Times).
Buddies (1985)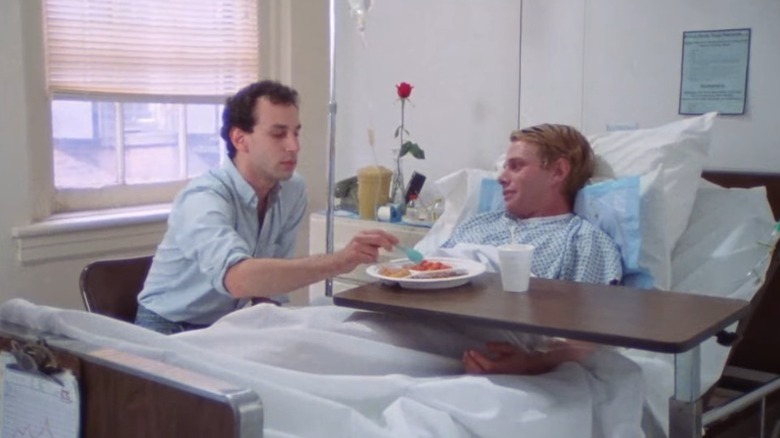 "Call Me by Your Name" is set in 1983, but it never mentions the AIDS crisis directly. Save for scripted mentions by Elio's parents that were ultimately cut from the final film (via The Guardian), the epidemic exists only as a tacit contextual backdrop in the film, implicitly maximizing the urgency of its lovebirds' quest for bliss and escape. For large numbers of men, however, AIDS was a part of queer life in that period.
As such, Arthur J. Bressan, Jr.'s "Buddies" is a vital complement to any informed understanding of said life. The first fiction feature to take on AIDS as a primary subject, it tells the story of the friendship that develops between Robert (Geoff Edholm), an activist left alone by family and friends after his diagnosis, and David (David Schachter), a graduate student who is assigned as Robert's volunteer "buddy" in his final days. The film's sheer momentousness as a personal and political statement — Bressan himself died of AIDS-related complications two years after its release — is matched only by its raw emotional import.
Dou Kyu Sei — Classmates (2016)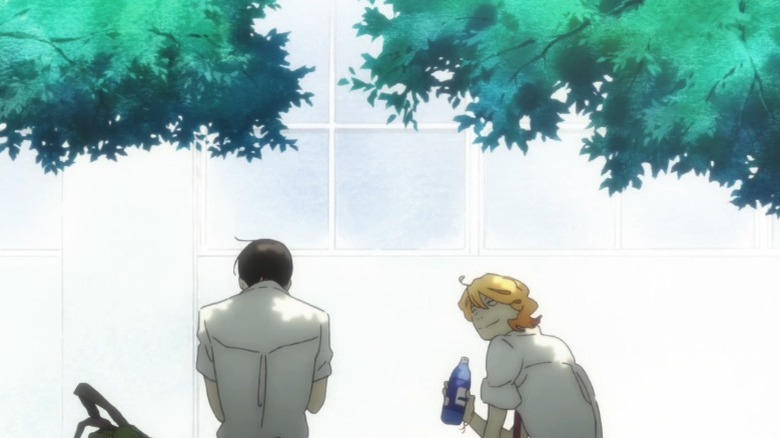 The languid pacing, the quasi-fantastical remove, the tremulous build-up to each kiss, the curious naïf-experienced hunk dynamic, the nosebleeds ... there's something about "Call Me by Your Name" that's surprisingly reminiscent of yaoi. (Indeed, it kind of goes both ways: As recently spotted by fans on the r/boyslove subreddit, posters of "Call Me by Your Name" have become a frequent art direction shorthand for queerness in Asian BL media.) Any number of Japanese anime films evoke similar emotions to Elio and Oliver's sun-kissed Mediterranean tryst, but one that's particularly close to its aesthetic and tonal ballpark is "Dou kyu sei – Classmates," the Shouko Nakamura-directed adaptation of Asumiko Nakamura's eponymous manga series.
Animated with a stunning watercolor technique, "Classmates" brings the high school romance of nerdy Rihito (Kenji Nojima) and free-spirited Hikaru (Hiroshi Kamiya) to life with overwhelming freedom and fluidity, rendering their awkward courtship in the most dashing colors. Although the storytelling is rather simple and familiar on a basic plot level, few films (animated or otherwise) are so cinematically keyed in on the flurry of emotions of first love.
The Way He Looks (2014)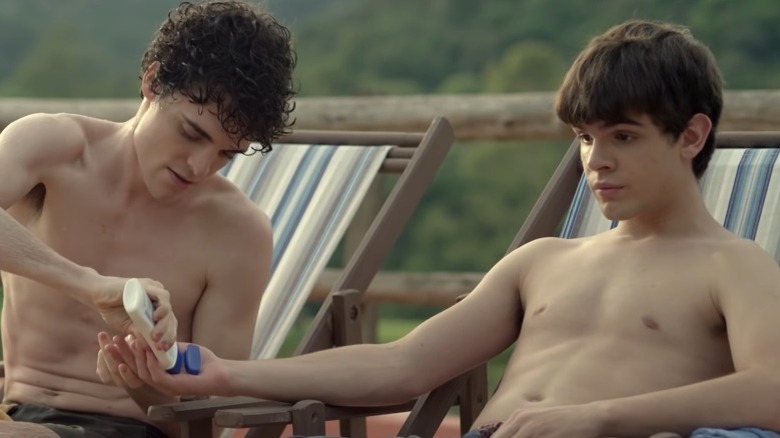 Brazilian queer cinema has a rich enough tradition to rival any given world market. One of that tradition's most notorious recent examples is "The Way He Looks," which became an instant new entry in the gay coming-of-age canon when it hit theaters around the world in 2014.
In addition to being a satisfyingly realistic, lived-in, thoughtful depiction of the rarely-explored intersection between queerness and disability — in this case, the blindness of protagonist Leonardo (Ghilherme Lobo) — "The Way He Looks" is just an unbelievably cute movie, which meets its teen protagonists at their level and allows their feelings and decisions to develop at a natural pace. Leonardo is as vibrant a young mind as Elio in "Call Me by Your Name," and the slow, gentle interweaving of life perspectives that occurs between him and Gabriel (Fábio Audi) as they guide each other through their respective worlds makes for a singularly tender romantic dynamic.
Read this next: 20 Underrated Rom Coms You Need To Watch
The post 15 Movies Like Call Me By Your Name That You Really Need To See appeared first on /Film.